Shanghai to learn lessons from stampede tragedy
Shanghai Mayor Yang Xiong said the city must bear in mind the costly lesson learned from the panic-stricken stampede on New Year's Eve, which left 36 dead and 49 injured.
"The incident has caused very serious consequences. It's very painful, and the lesson cost too much. Although the incident is still under investigation, we must learn the lesson paid for with blood and reflect deeply on the incident," Yang said at a meeting of Shanghai People's Congress on Tuesday.
The annual lantern show held at Shanghai Guyi Garden during Lantern Festival each year will be canceled this year due to safety concerns.
The lantern show attracts a large number of visitors each year. Last year, the garden received about 44,000 visitors.
Yang said the city will thoroughly review systems on crowd management, especially in key areas and at key time periods, and try to find out the weak link and solve the problems immediately.
He also emphasized that safety is the "bottom line", and the safety responsibility system, prevention measures and precautionary plan should be strictly implemented. Education on public safety should also be enhanced.
Tuesday marked the touqi, or "first seventh day" after the stampede. Traditionally, people pay their respects to their dead loved ones on the seventh day after death.
At around 9 am, relatives of the victims began arriving at the Chen Yi Square in historic Bund area of Shanghai, where the incident happened.
To maintain order, the city has increased the police presence at the site and also isolated an area of the square for the memorial ceremony.
Relatives wept as they went in to the square holding pictures of loved ones who lost their lives in the incident. And some were going to the square with the assistance of medical staff in case of any emergency.
According to Shanghai Health and Family Planning Commission, another two injured people were discharged from hospital.
As of Tuesday morning, a total of 20 people injured in the stampede were still hospitalized. Three are in a serious condition, and one person is in a critical condition, the commission said.
wanghongyi@chinadaily.com.cn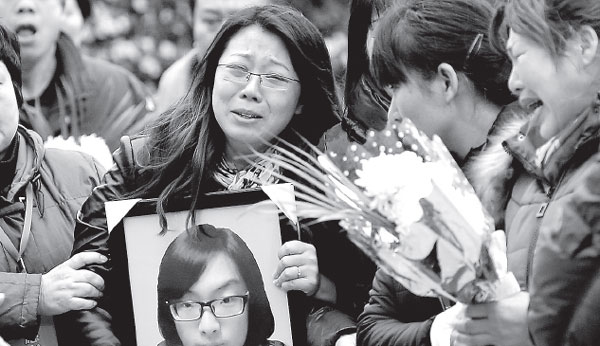 Grieving relatives of a victim of the Shanghai stampede mourn for their loss in Shanghai on Tuesday, which was touqi, or "first seventh day" after the incident. Traditionally, people send their condolences on that day. Chen Fei / Xinhua