Distemper blamed in death of panda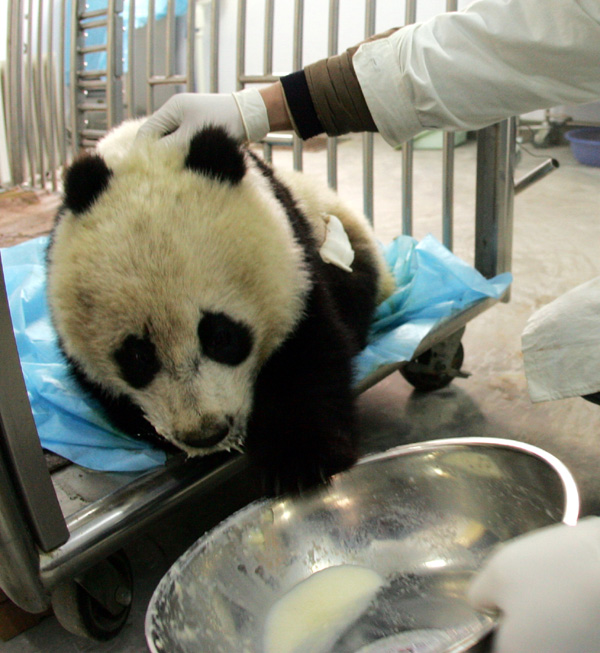 Giant panda Cheng Cheng is seen in a handout picture. She died of distemper on Dec 9.Three other pandas were diagnosed with the disease. Yuan Jingzhi / for China Daily
The Shaanxi Rare Wildlife Rescue and Breeding Research Center in Zhouzhi county, Xi'an, capital of Shaanxi province, has launched an emergency response system after four giant pandas raised in the center came down with distemper and one died on Dec 9.
According to Han Xueli, director of the center's general office, the 8-year-old female panda named Cheng Cheng was diagnosed on Dec 6 with the disease and died at about 1:50 pm on Dec 9.
Distemper is a dangerous disease that mainly infects canine and feline animals. The distemper virus is highly contagious, and the mortality rate can be up to 80 percent.
From Dec 24 to 30, another three pandas in the center were also diagnosed as suffering from distemper and the center was closed on Dec 31.
"Such an epidemic has never hit our center before," Han said.
The center followed its emergency plan for disease control and prevention immediately after Cheng Cheng was diagnosed with distemper, putting the animals in separate rooms with a staff member assigned to care for them, and applying high-strength disinfectant over the entire center, Han said.
"We invited 20 experts on distemper and panda diseases from all over the country to our center for disease control, treatment and prevention," the director said.
The center has raised 25 pandas, the third-largest captive panda population in the world, and now has 24 of them.
At present, the sick pandas are undergoing careful treatment and the healthy animals have been isolated and are under close 24-hour monitoring.
malie@chinadaily.com.cn