'Just spend', Alipay tells shoppers
Alipay, the e-payment division of Alibaba Group Holding Ltd, is launching a consumer financing service that allows shoppers to pay for online purchases the month after delivery.
The service, called huabei (just spend), offers loans of 1,000 yuan ($161) to 30,000 yuan. It is intended to improve the experience of online shopping, said an Alipay statement on Monday.
Those who shop on the company's Taobao and Tmall platforms can use this service and repay their loans by the 10th of the month following delivery.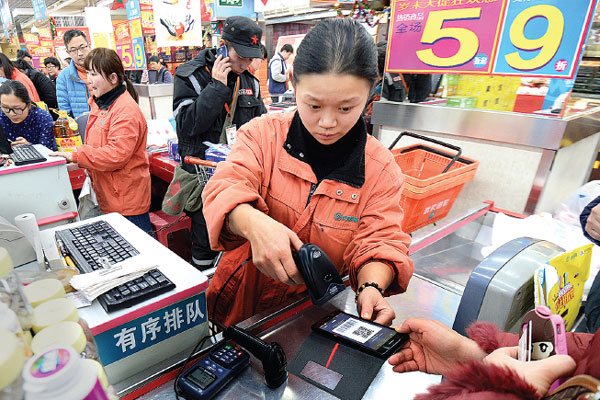 A salesperson scanning the quick response code from a customer's mobile phone at a retail outlet in Beijing. Alipay is launching a consumer financing service that allows shoppers to pay for online purchases the month after delivery. Wang Jing / For China Daily
The service is only open to a "limited number" of active Alipay users at this stage. Alipay said that the official launch has not been confirmed yet.
Alipay said that all loans will be provided by its parent company Ant Financial Services Group, a financial affiliate of Alibaba Group.
A battle to offer loans to shoppers is underway among major domestic e-commerce companies. JD.com Inc, Alibaba's biggest e-commerce competitor, rolled out a service in February offering its registered users consumer loans up to 15,000 yuan.
The Beijing-based JD.com said that the service has "significantly boosted" its sales. Those who use the loan service spent 58 percent more than the average shopper did six months earlier, the company said.
Beyond stimulating online consumption, e-commerce companies can easily expand into Internet finance by providing loans to consumers, said analysts.
Li Ye, an analyst at Internet consultancy Analysys International, said that the foundation of consumer financing service lies in risk control.
"Because e-commerce platforms have amassed a lot of data on consumers' finances, such as how much and how often they spend online and whether they pay on time for the goods they order online, they have natural advantages in developing consumer financing services," she said.
Consumer finance has a rosy future in China because of rising incomes and a consumer market unleashed by the growing appetite for high-quality goods, said consultancy iResearch Group.
It said that consumers in China borrowed 13 trillion yuan in 2013, up 24.7 percent year-on-year. The average growth of the market is expected to exceed 20 percent between 2014 and 2017.
Wang Weidong, an analyst with iResearch, said that with more e-commerce companies getting into consumer lending, the Internet-based consumer finance market is expected to surge from 6 billion yuan in 2013 to more than 100 billion yuan in 2017.
"Compared with developed Western countries, the penetration rate of consumer finance in China is still quite low. With transaction data and big data technology, e-commerce firms can make the whole process of getting a loan much easier, compared with traditional financial institutions," he said.
"E-commerce companies can act as a catalyst for the growth of consumer finance in China," Wang said.
mengjing@chinadaily.com.cn