Liverpool shows top-4 form
Rodgers hails team's 'character' after gutsy draw with Arsenal
Liverpool manager Brendan Rodgers said his players demonstrated the character necessary to revitalize the club's challenge for a top-four Premier League finish in its last-gasp 2-2 draw with Arsenal on Sunday.
After Philippe Coutinho's opener was swiftly countered by Mathieu Debuchy in first-half stoppage time at Anfield, Olivier Giroud struck in the 64th minute to set Arsenal up for an opportunistic victory.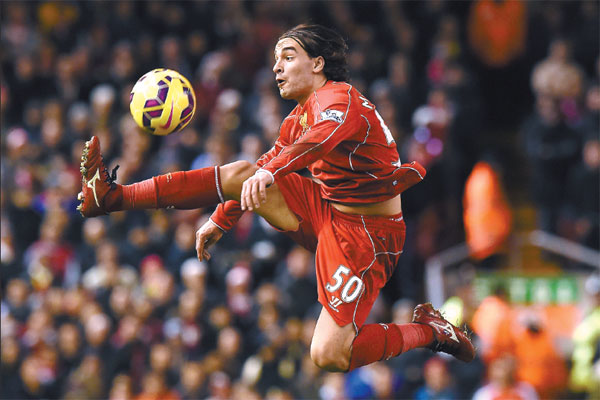 Liverpool midfielder Lazar Markovic goes up for the ball during Sunday's English Premier League match against Arsenal in Liverpool. Martin Skrtel powered home a header deep into stoppage time to earn the shorthanded home squad a 2-2 draw. Paul Ellis / AFP
But Martin Skrtel claimed the equalizer with an emphatic 97th-minute header, having earlier required treatment for a head wound inflicted by Giroud that resulted in nine minutes of injury time.
The point was the least Liverpool deserved after restricting Arsenal to a 36 percent share of possession - its worst performance in that domain since passing statistics began to be compiled in 2003.
Although Liverpool trails leader Chelsea by 17 points and lies nine points back of the Champions League places, Rodgers is convinced that last season's runner-up is on the right track.
Asked if Liverpool could sustain a challenge for a top-four finish, he said: "Yes, absolutely. It was always going to be a big challenge. Of course we've got to make up points over the next part of the season, but we have shown this is a group that can go on a run of wins.
"In the second half of last season we went on a run of 11 games and if we can put a run of games together, that can very quickly move you up.
"The most important thing is the confidence and the ability in the team. You bring (injured striker Daniel) Sturridge back in January, then you get back to being that team we have been in the last few years.
"There's a bit of work to do, but at least we're moving in the right direction again, which is what we want."
'Bad memories'
Rodgers was pleased with the "intensity" and "arrogance with the ball" Liverpool showed, but he was less complimentary about his side's defending.
Citing the build-up to Debuchy's goal, when the host was beaten in the air three times after Alexis Sanchez curled a free kick into the box, he said: "A lot of the goals we give away are poor goals.
"I didn't think it should have been a free kick. I think Sanchez took a dive once he realized he wasn't getting the ball, and the referee fell for it.
"But when it comes in, we lose three headers in the box. We have to be better at that. That's not about organization; that's about winning the duel."
Rodgers said he had "no complaints" about the injury-time dismissal of substitute Fabio Borini, who collected yellow cards for dissent and a high boot against Santi Cazorla.
He also paid tribute to Slovakian centerback Skrtel, who stayed on to score the winner despite having been left with an ugly gash on the back of his head after Giroud unintentionally caught him with his studs.
"He's a real warrior, Martin," said Rodgers, whose side registered 27 attempts on goal. "He showed great character and determination to stay on."
Arsenal was blitzed 5-1 on its previous visit to Anfield in February, when it conceded four goals in the first 20 minutes, and beaten manager Arsene Wenger suggested that memory played on his players' minds.
Asked to explain a sluggish first-half display, Wenger cited "tactical and psychological reasons" and explained: "Maybe (there were) bad memories from last year. Some players were not at their best. I think we played with the handbrake too much in the first half.
"Overall it's a fair result, but it's also a frustrating result for us because they came back at a moment in the game when we had plenty of defenders on the pitch."