'Made in China' helps Brazilian consumers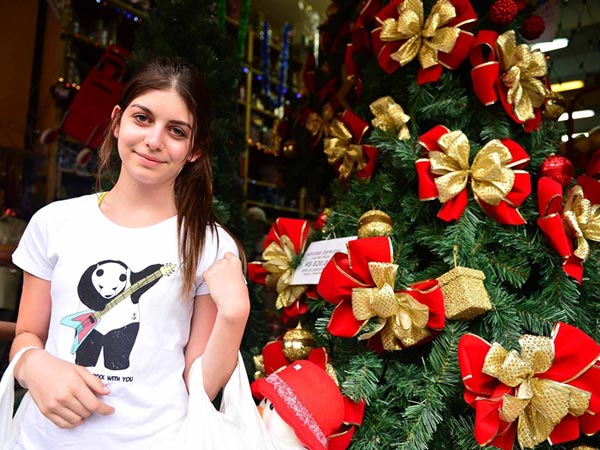 Anna Adelia, 17, goes shopping in Rio de Janeiro. Xun Wei / Xinhua
In Sao Paulo, almost everyone knows "Rua Vinte Cinco de Março". In English, that is "March 25th Street" or, as it is usually referred to, "25th Street".
Located near the center of Brazil's biggest city, it is one of the largest commodity distribution centers in South America.
High prices in Brazil have made 25th Street with its cheaper but good quality "Made in China" products the "Shopping Holy Land" for the middle and lower classes of local consumers.
It is said that most of the stores on the street, which actually encompasses a number of streets, are owned by Chinese. To many local people, it is Sao Paulo's Chinatown, where it is common to see people of Chinese descent or Chinese naturalized Brazilians talking in Portuguese.
There are three main shopping stores in the area: The Shopping 25 de março (March 25th Shopping), the Shopping Oriental (Oriental Shoppjng) and the most famous, Galeria Pagé (Pagé Gallery). All their stores carry a variety of products such as toys, jewelry, bags, stationery. Most of the stores sell only in bulk and at low prices, so many store owners from far away come to buy goods for resale. Consumers also can buy articles, but at somewhat higher prices.
"The 25th Street is my favorite place for shopping. The commodities here are very cheap, and nowadays the quality of Made in China is getting better and better," said 17-year-old Anna Adelia.
December is a peak buying season on the street because of Christmas. Adelia's family lives in a Sao Paulo suburb. On Dec 6, the family traveled by bus for more than two hours to 25th Street to buy Christmas decorations and gifts. Adelia bought a beautiful scarf for her mother and an electric shaver for her father, and a delicate dressing box for her sister, all made in China.
Adelia's mother said, "Prices in Brazil are too high. If there is no 25th Street, a family in relatively poor economic condition cannot afford to celebrate Christmas. We thank 'Made in China'!"
Brazil's manufacturing industry is dealing with spiraling costs because of high labor expenses and numerous taxes. Goods made in the country are too expensive to attract the middle and lower classes of consumers. Made-in-China products are popular because they offer higher quality and more added value at lower prices.
Usually the prices of goods on 25th Street are one-half or one-third of those in shopping malls. The price difference for electronic products is particularly evident. The made in China iPhone5 compatible charging cable, for example, costs about 45 reals ($18) in a shopping mall, while on 25th Street it is 5 to 15 reals( $2-$6), based on differences in quality and workmanship.
As Christmas approaches, a large number of Brazilians come to 25th Street to purchase holiday items. According to the local chamber of commerce, there were more than 1 million people on Dec 6.
Because of the large number of people at this time of year, traffic is very congested, and the Brazilian transport sector adopted a special traffic plan to deal with it.
For merchants on 25th Street, the large number of people is a source of both happiness and pain. In a three-story warehouse near the street, freight cars blocked the road as products inside of them waited to be distributed.