Students compete in Chinese storytelling
The children didn't take to the stage to win a championship. They were too young to grasp the idea of winning or losing. What they were after, and why their parents brought them, was to gain an experience that might enlarge their horizons and chart a path to an unexpected future.
The children were taking part in the second biennial Chinese Storytelling Competition, organized by the Potomac Chinese School at the Hoover Middle School in Rockville, Maryland, on Sunday.
Potomac Chinese School principal Dong Hua said as long as students were making progress in learning Chinese, he was happy. "It is a good opportunity for them to show off their talent," said Hua.
He explained that each child had the opportunity to tell a story in Chinese on the stage. There was no entry fee.
While some children chose classic Chinese tales, others created original stories on their own. The school arranged an advisor to help guide the student performers both online and in person.
"We hope that people from all walks of life join in to make the event more meaningful," said Hua.
About 400 students American, Chinese and inter-cultural families signed up for the contest back in October. About 100 made it to the semi-finals and 60 to Sunday's finals, according to Renshu Zhang, provost of the Potomac Chinese School.
"The nine judges are experienced experts in language and performance," said Zhang. The judges assessed each performer's story-telling skills based on vocal mechanics, gestures, charismatic presence, characterization, use of space and pacing.
To make the competition more fair and the results less predictable, the contestants were divided into three groups: students whose parents are both Chinese, students with one Chinese parent and students with no Chinese parent.
Wei, a marketing manager with Sun TV, one of the sponsors of the event, said she hoped the contest would establish a Chinese learning educational paradigm by encouraging storytelling.
Annoelle Le Guellec's father was proud that she made it to the finals. Her younger brother wasn't so lucky, stopping in the second round. Le Guellec's father is from France and her mother is from China.
"She has been studying Chinese since forever," Le Guellec said of his daughter. "Since she was little, she goes to Chinese school every Sunday. She speaks Chinese better than French. It is a good experience for her to take part in the competition."
Bohua Yu, took her three grandsons, aged 6 to 13, to the competition. "Chinese is their mother's tongue. It is important for them to learn it. And Chinese is so hard to learn, it will be easier for them to learn when they are little," said Bohua.
"Our family takes part in every activity in the community, the Spring Festival performance, singing and storytelling competitions," she said. "We want to strengthen the children's Chinese ties."
Hui Zhou, who works in the education office of the Chinese embassy in the US, brought her son, Xiyuan Zhou, to the competition. Zhou's son came to the US at the age of two. "He told me he wanted to compete with other children on the stage," said Zhou with smile.
Richard Furchtgott, a 16-year-old student in the French International School, said he has been studying Chinese for 10 years. He joined the competition, he said, because it was a great way to practice Chinese. "And it's lot of fun," he added.
Furchgott recited an old Chinese story, Three Little Golden Statues, for the finals on Sunday.
changliu@chinadailyusa.com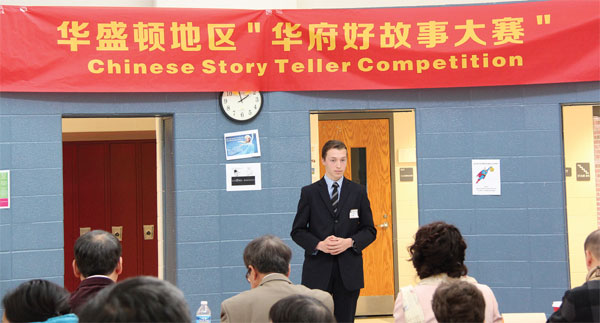 A student tells a story at the Hoover Middle School on Sunday during the Chinese Story Teller Competition, organized by the Potomac Chinese School. Liu Chang / China Daily