High-tech firms eye better school ties
Small high-tech enterprises in Changchun, provincial capital of Northeast China's Jilin province, say they prefer government support to help them establish close ties with local universities more than financial help.
Wu Chengshun, deputy general manager of Jilin Province King Laser Technology Co, says: "We attach great importance to talent. The government has helped us establish close relationship with universities that provide and train talents we need. And we are really grateful for that."
Wu's company entrusts some research projects to universities. Teachers and students will do the experiments and provide the company with their results and data.
"We also provide internship workshop and materials for students that universities will definitely not have the ability to do. We will be in charge of training for some students, but at the same time we will also make use of the chance to choose the ones we prefer. And the excellent ones can work with us after graduation if they want," Wu says.
Many of the company's research staff is from universities and they are the most precious asset of the company and help us keep up with innovative ideas, he adds.
"Universities have grasped some new technology, strong scientific research ability and financial support from the central government. But the problem is that many scientific research subjects from universities are without practical use, with students graduating with little practical skills," says Zhao Shukuan, director of the School of Management at Jilin University.
The cooperation between King Laser and universities can be expanded to more companies and universities, he says.
"To make use of the talent advantage, we also encourage universities to use technology, research projects and research staff to invest in high-tech companies. It will be a win-win strategy and good attempt," says Sun Guoqing, director of the Changchun Bureau of Science and Technology.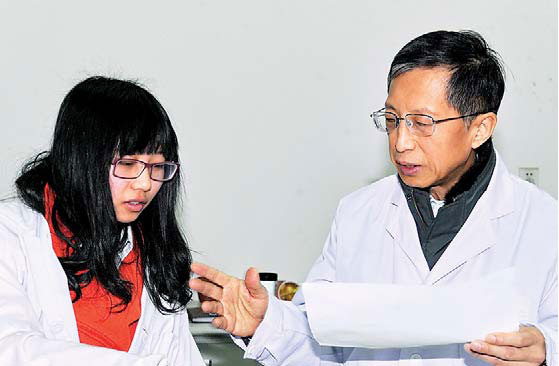 A professor guides a student at Jilin University in Changchun as they perform an experiment. Small high-tech companies are working with the city's universities to carry out research projects. Provided to China Daily