Currency given its Parisian wings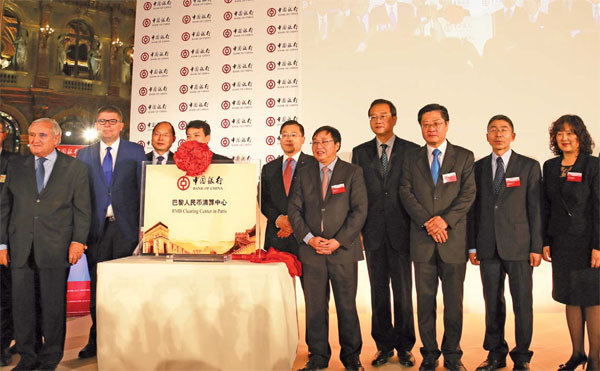 The opening ceremony of Bank of China's renminbi clearing center in Paris. The launch will boost economic and trade exchanges between the two sides. Provided to China Daily
Clearing center in French capital seen as giving renminbi more international impetus
The opening of Bank of China's renminbi clearing center in Paris will boost bilateral economic and trade exchanges while accelerating the internationalization of the Chinese currency, said the bank's President Chen Siqing at the center's opening ceremony on Dec 3.
The yuan has been used in more than 44 percent of bilateral transactions between the two countries and will become an important currency in the near future, Chen says. He adds that two years ago only 6.5 percent of transactions between France and China were executed using the yuan.
On Sept 15 the People's Bank of China, the central bank, appointed the Bank of China, one of the country's big four lenders, to clear yuan transactions in Paris. This year, China has reached agreements with several European countries such as Germany, the United Kingdom, France and Luxembourg to open renminbi trading centers.
Chen says since 2012, multinational companies have had a positive outlook on the renminbi's international status.
Twelve offshore renminbi centers have been officially opened in locations such as Hong Kong, Macao, Taipei, London, Singapore, Frankfurt, Paris, Luxembourg and Sydney.
As the largest bank for renminbi overseas trading, the Bank of China, in the first 10 months of the year, has handled 1.93 trillion yuan ($0.31 trillion, 0.25 trillion euros) in renminbi clearing transactions overseas, with a 90.8 percent year-on-year growth, Chen says.
The bank has worked with many French companies such as Renault and Airbus on renminbi transactions and trades. Paris is very important as an international financial center and an offshore renminbi center, he adds.
France's General Director of Treasury Bruno Bezard said at the ceremony that the internationalization of the renminbi will reinforce the financial market of Paris and that the renminbi will play an important role in the nation's economic future.
A 2 billion yuan renminbi denominated bond, named the Arc de Triomphe Bond, was successfully issued by BOC on July 8 this year through Euronext, the primary exchange in the eurozone.
France's former prime minister Jean-Pierre Raffarin congratulated Bank of China on Dec 3 and the center's opening is great news to big French companies as well as to the country's SMEs.
China is France's third-largest export partner and its second largest import destination. The European country is also China's fourth-largest source of trade in the European Union.
Deng Li, charge d'affaires of the Chinese embassy in Paris, says the establishment of the renminbi clearing center in Paris will have positive impacts on the use and internationalization of the renminbi in France and Africa.
tuoyannan@chinadaily.com.cn