Top club goes dark in Dongguan sex crackdown
A top entertainment venue in Dongguan, Guangdong province, has closed eight months after a the start of a law enforcement crackdown on prostitution in the manufacturing hub.
The club, Shengshi Gechao, was known for its extravagant decorations and hundreds of women.
The club consisted of two buildings covering 20,000 square meters and was generally considered one of the best in the city - comparable or even superior to Beijing's Passion Nightclub, also known as Heaven Earth, which was shuttered in 2012 amid allegations that it offered sex services.
Unlike ordinary clubs in Dongguan, Shengshi Gechao paid great attention to training its waitresses, or masseuses.
A woman would only be recruited if she met certain physical criteria, including being more than 1.68 meters tall.
A 2,600-sq-meter fitness center and a 1,000-sq-meter beauty salon were provided to the masseuses to help them maintain their looks.
In October, local police raided the club and said it was involved in the sex trade. It was ordered to suspend operations for six months.
Earlier this year, China Central Television exposed rampant prostitution in Dongguan, the prosperous Pearl River Delta city widely known for its sex industry before local police launched campaigns to curtail it.
By July, 1,552 people involved in the sex trade had been charged. Dozens of government officials and police officers, including the city's then-deputy mayor, were removed from their posts and investigated for allegedly protecting prostitution and secretly tipping off gangs.
According to takungpao.com, the sex trade in Dongguan provided at least 200,000 jobs to locals, and the crackdown has greatly affected some people, including hotel workers, taxi drivers and the masseuses.
More than 70 percent of the city's taxi drivers relied on clients of the sauna and the foot massage and entertainment venues. Many restaurants, manicure salons and cosmetics shops have also been seriously affected.
Local police require that investors, managers and workers associated with entertainment venues strictly follow laws and regulations on client registration, as well as the physical requirements of the business.
They also said that venues will be suspended or have their licenses revoked if they break the laws or violate regulations, and all those profiting from prostitution will be charged.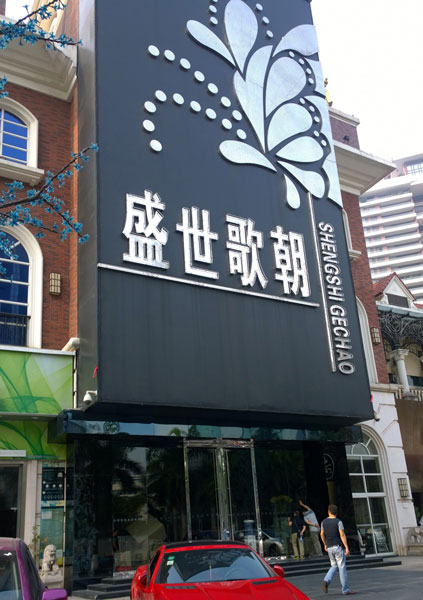 Three men peer into the top entertainment venue in Dongguang, Guangdong province, on Wednesday. The club, Shengshi Gechao, said it has closed. Provided to China Daily