Women entrepreneurs get financial tips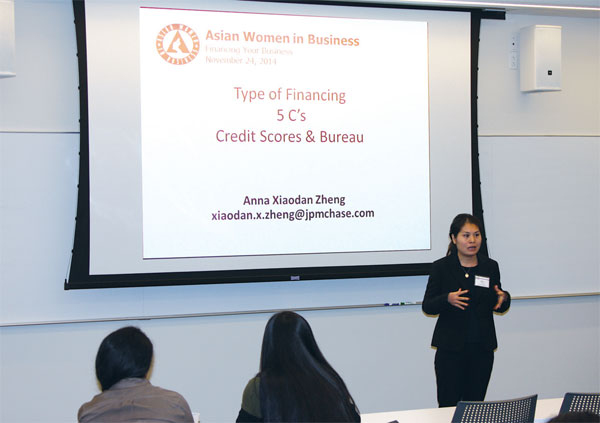 Anna Zheng, a business banking manager for Chase Business Banking, speaks with aspiring entrepreneurs at a forum on Monday in Midtown Manhattan hosted by Asian Women In Business (AWIB). The event brought together 20 local entrepreneurs and touched on a number of topics, including fiscal solvency, loans, credit lines and alternative financing mechanisms such as crowdfunding. Jack Freifelder / China Daily
Starting one's own business can be a pretty daunting task.
"You want someone to look at your business and invest because this is your baby and your dream," Anna Zheng, a manager for Chase Business Banking, said Monday during a presentation in New York.
She spoke during the fourth presentation of Starting Your Business 101, a conference held the past four Mondays, at the Microsoft Corp office in Manhattan. About 20 aspiring entrepreneurs took part in the wide-ranging dialogue.
"If your business has been around for a bit longer than a startup, you might have cash-flow issues," Zheng said at the event, hosted by Asian Women in Business (AWIB), a not-for-profit founded in 1995 to assist Asian women entrepreneurs.
Zheng said that banks look for 5 C's when identifying good candidates for loans: character of the customer; capacity to repay; capital to support a company; collateral to back up assets; and the conditions for successful day-to-day operations.
Veronica Guzman, founder of business advisory firm WAM Ventures, and Man-Li Kuo Lin, an economic development specialist with the US Small Business Administration's New York District Office, also spoke.
Topics included fiscal solvency, such as loans, credit lines and alternative-financing mechanisms, such as crowdfunding.
Lin, who was born in Taiwan, said entrepreneurs can pursue financing with regional SBA microloan intermediaries. These intermediaries borrow cash from the SBA and lend it directly to borrowers, she said.
Lin said the SBA also encourages a number of export-oriented business loans for smaller businesses and startups, but transparency and preparation are key parts of any application process.
Zheng, a native of Changle, Fujian province, said companies both large and small are prone to eventual cash-flow issues at some point.
"Where I come from, it's not easy for Asian women to be up front and participate as much as we should," Zheng told China Daily after her presentation. "The reason I agreed to attend was really to add value. If I can add value to people that have similar backgrounds, then we can communicate and learn from each other. Just like everything else, it's all about relationships."
jackfreifelder@chinadailyusa.com