We Media 'offers limited openings'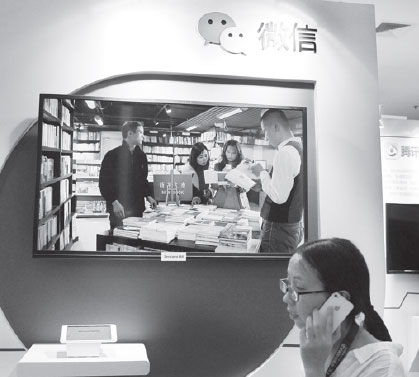 WeChat, which had a booth at a Beijing Internet conference in August, is among the socialmedia also being used by businesses. Zhu Xingxin / China Daily
Faced with the age of "personal technology", in which new social communication channels via micro blogs, WeChat or other platforms have brought changes to people's lives and work, many innovators and entrepreneurs are looking to mine several promising fields.
But some employment experts have said that such new channels or so-called "We Media" offer limited job opportunities. These opportunities involve certain industries and are restricted to a few cities.
Zhang Jiawei, 29, switched jobs from a private financial news website to the public relations department in a large State-owned enterprise in Shanghai in July 2013, taking a step forward in his career with better pay and prospects.
Zhang said his experience in operating technology blogs and micro blogs gave him extra points during the job interview.
"My directors believed these experiences demonstrated that I have initiative and can handle technologies involving websites, which could be applied in projects," Zhang said.
Like him, job hunters with experience in operating personal technology platforms, especially the popular WeChat and Weibo messaging apps, are in demand, some managers confirmed.
"We require all the applicants for our jobs to be experienced users of WeChat and Weibo, because such people can greatly help the online promotion of our products and cut the marketing costs," said Hu Yang, marketing manager of an online company providing P2P, or peer-to-peer, lending services, Xinhua News Agency reported.
We Media channels, including WeChat and Weibo, have also provided much opportunity for entrepreneurship.
Many people have started their businesses through public accounts on WeChat, selling clothes or other goods.
Based on the latest report from the WeChat company, it has more than 5.8 million public accounts, and the number has been increasing by 15,000 every day, which could be a new market for employment and entrepreneurship.
"But it's never easy to make money from the public account, with the majority barely making any profit," said Wang, an experienced operator of public accounts, adding that his accounts only involved some part-time items and volunteers.
There is a long way to go before such public accounts can become a profitable market providing more jobs, insiders said.
Zhu Hongyan, a senior career consultant at employment website Zhaopin.com, said that among the 44 categories of jobs listed on the site, the experience needed in operating We Media involved two of them at the most.
"Such experience is just bonus points for job seekers," she said. "If their basic work performance is not good, their experience in WeChat or micro blogs cannot help them get the position."
Certain industries such as news media, publicity companies or some technology companies value this experience in Beijing, Shanghai and other major cities, she said.
"For most others, especially non-Internet companies located in second- and third-tier cities, these We Media participants don't have advantages in job hunting," she said.
zhengjinran@chinadaily.com.cn