Fund's donation gives Ebola fight more heft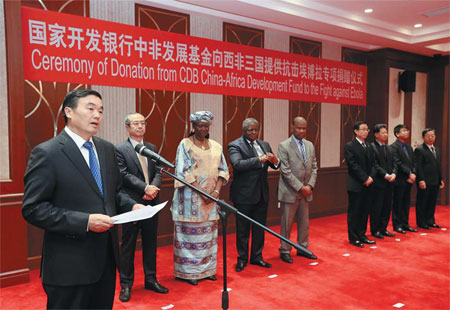 Hu Huaibang, chairman of China Development Bank Corp, says it will continue to support Ebola-hit countries and regions. Wang Chao / China Daily
The China-Africa Development Fund announced it will donate $450,000 to Guinea, Sierra Leone and Liberia to help the three countries battle the Ebola epidemic.
Each received $150,000. The three countries are the most severely affected by the epidemic. The virus has killed more than 1,000 people and infected more than 10,000 since March. It has since spread to other countries and regions, including Europe and the United States, and has become the most serious public health crisis in the past decade.
Hu Huaibang, chairman of the China Development Bank Corp, a stakeholder in the China-Africa Development Bank, says the outbreak of Ebola in West Africa has threatened public safety and economic development in the region.
"Now we are at a critical point in the fight against Ebola," Hu says. "As China's biggest cross-border financier, we will keep supporting Guinea, Sierra Leone and Liberia because we value our social responsibility to the African continent."
The China Development Bank and the China-Africa Development Fund are important platforms for financial cooperation between China and Africa, Hu says. The China Development Bank has issued $27.7 billion in loans and invested $2.3 billion in the continent.
"Through this donation I hope we can boost the confidence of Africans in the fight against the epidemic," Hu says.
Dudley McKinley Thomas, Liberia's ambassador to China, says he was honored to accept the donation on behalf of the three countries.
"I believe this donation will save lives, build trust and inspire confidence in Guinea, Sierra Leone, and Liberia," he says.
Thomas says this donation proves that China is indeed a true friend of Africa.
"China's partnership with Africa is a role model that deserves to be copied in many forms. It is an example of what a 'win-win' cooperation truly means," he says.
He then quoted a speech recently delivered by Liberia's President Ellen Johnson Sirleaf in which she said: "We will not leave people in West Africa to an enemy they don't know and against which they have little defense."
"The China Development Bank and the China-Africa Development Fund have sent a clear message that African people are not alone in this struggle, and we hope our other Chinese investment partners will follow in their example," Thomas says.
His government is in talks with China-Union (Hong Kong) Mining Co, a unit of Wuhan Iron and Steel Group, about possible donations, he says.
The Chinese government had already provided four rounds of emergency aid totaling 750 million yuan ($122 million) to the affected areas and to 10 neighboring countries in the region, says Wang Shiting, deputy director of the Department of Africa at the Ministry of Foreign Affairs.
China has also sent more than 700 healthcare professionals and staff to West African countries.
Wang says in addition to the assistance from the China Development Bank and the China-Africa Development Fund, Chinese businesspeople and investors have played a positive role in promoting China-Africa relations, especially during the crisis.
Big Chinese companies operating in West Africa include Huawei Technologies Co, Henan International Cooperation Group and China Communications Construction Co Group, as well as other construction companies.
"We are pleased to see that many Chinese companies are still working in the affected countries, which have contributed to these countries' economic stability and steady employment rate. Many Chinese companies have also donated to communities in West Africa to help fight this epidemic," Wang says.
Fang Aiqing, vice-minister of the Ministry of Commerce, says that there are about 200 Chinese companies in Guinea, Liberia, Sierra Leone, Mali and the Democratic Republic of the Congo, employing about 8,500 Chinese people.
"So far there hasn't been a case of infection among Chinese employees, and talks about Chinese companies leaving these countries is untrue," he says.
wangchao@chinadaily.com.cn