Milk company goes Dutch
Late entry to Chinese market seen as big advantage
The biggest dairy company in the Netherlands says it hopes to revolutionize China's dairy production industry with its "grass to glass" approach.
"The Chinese market is very important to us," says CEO of the Royal FrieslandCampina, Cees't Hart. "We are aiming for 1 billion euros ($1.26 billion) of sales in China, and we are an 11 billion euro company."
The company is well established and is now taking a different approach to the market through a joint venture, Hart says.
The 135-year-old company has grown through mergers and takeovers, and its present incarnation is the result of a merger of Royal Friesland Foods and Campina in December 2008. It had revenue of 11.4 billion euros last year.
FrieslandCampina, which has marketed its products in China since 1992, strengthened its presence in the country in 2008 through a Shanghai subsidiary. It now wants to significantly upgrade its presence through a joint venture with the Chinese dairy company Huishan.
Discussions began this year, and it is expected that the new joint venture would produce, market and sell high-quality infant milk formula in China, and that the partners would operate an infant milk formula supply chain. In addition, both companies would continue to run their existing infant milk formula businesses separately.
Under such a partnership, Huishan would provide high-quality raw milk from its dairy farms in China to the joint venture and the joint venture would produce and market infant milk formula.
Huishan, with headquarters in Liaoning province, controls about 30,000 hectares of farmland, for alfalfa and other feed crops, and operates more than 50 dairy farms housing China's largest Jersey cow herd and second-largest Holstein cow herd.
China's dairy product sector is rapidly growing. The industry and market research consultant Frost & Sullivan says that retail sales of liquid milk in China rose from 87 billion yuan ($14 billion, 11.3 billion euros) to 144.8 billion yuan between 2008 and last year, a compound annual rate of 10.7 percent
Sales of dairy products are expected to climb to $46.5 billion (36.8 billion euros) by 2016, up 66 percent from 2011, the market research firm Euromonitor International says.
However, one challenge facing the industry in China is a lack of consumer confidence in safety. In 2008, six Chinese infants died and tens of thousands were hospitalized after drinking domestically produced milk powder contaminated by melamine.
FrieslandCampina hopes to introduce techniques that monitor the quality of milk at every stage of production, an approach known as from grass to glass.
The internal system that monitors and checks the quality of milk throughout the entire production chain at FrieslandCampina is known as Foqus. That chain begins at members' dairy farms, where the milk being collected by truck is tested for antibiotics, irregularities, temperature and color.
A laboratory then examines the milk from individual dairy farms to assess a wide range of factors including bacterial count, somatic cell count, sediment, butyric acid, freezing point, chloroform, and free fatty acids.
In China, FrieslandCampina is best known for its infant formula brand Friso, with sales of about 3 billion yuan a year. Before 2008, most of the Friso milk formula was sold in China through a dealer, but a burgeoning market demand for Friso has prompted FrieslandCampina to establish a Shanghai subsidiary to manage Friso sales.
However, the Friso infant milk formula sold in China is different from the European version, because Chinese regulators have created different guidelines for infant milk formula that is more appropriate to the Chinese diet.
Consequently FrieslandCampina's research and development team has created a version of Friso that suits Chinese requirements.
But two years ago, FrieslandCampina faced a crisis when the Dutch version of Friso was sold in the Chinese market. It was sold by Swiss Food company Hero Group, which bought the Benelux market distribution rights of Friso from FrieslandCampina about seven years ago, Hart says.
That act by Hero posed a huge challenge to FrieslandCampina because many Chinese consumers confused the two. Consequently, FrieslandCampina bought back the Benelux distribution rights of Friso, Hart says.
FrieslandCampina in Shanghai now has about 500 employees who work in sales and marketing. They also work with Chinese distributors located in each province.
In addition, FrieslandCampina has established a subsidiary in Beijing in charge of selling dairy ingredients including whey powder and GOS, a prebiotic, which is an element that promotes digestion. These ingredients are sold to Chinese dairy companies so they can make their own dairy products, and sales are now worth about 1 billion yuan a year.
A third FrieslandCampina subsidiary in Hong Kong, focused on both retail products and business-to-business sales to restaurants.
FrieslandCampina's involvement in China was given a boost in March when Chinese president Xi Jinping visited the Netherlands and visited the company, and Hart told him about the Dutch approach to dairy products.
"I had a half-hour meeting with the president, and we were able to present him our grass-to-glass concept," Hart says.
Another significant FrieslandCampina involvement in China is its investment in setting up the Sino-Dutch Dairy Development Center last November to help improve dairy production, safety and quality levels throughout the entire dairy chain in China, together with Wageningen University & Research Center and the China Agricultural University.
FrieslandCampina's keen desire to grow in China comes after a late entry into the country compared with many other Western dairy brands, but Hart says that may be to his company's advantage, as the market is now more developed and FrieslandCampina can bring to China products and approaches best for market conditions today.
cecily.liu@chinadaily.com.cn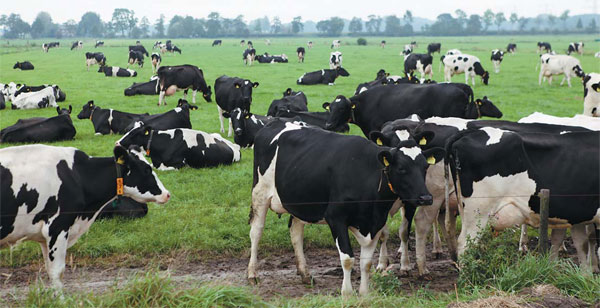 Royal FrieslandCampina hopes to revolutionize China's dairy production industry. Cecily Liu / China Daily