Police probe Toure Twitter abuse
British police on Tuesday announced an investigation into complaints that Manchester City midfielder Yaya Toure was racially abused on Twitter.
The 31-year-old Cote d'Ivoire international was reportedly subjected to a string of abusive and racist messages hours afters reactivating his Twitter account on Monday.
A Greater Manchester Police spokesman said: "GMP can confirm we have received a number of complaints regarding racist tweets directed at Manchester City Football Club player Yaya Toure on Monday, Nov 3, 2014."
In an interview with the BBC published on Tuesday, Toure said the abuse he had received was "a disgrace".
"For me it's a disgrace, to be honest," he said. "We need to do something to try to tell people those kinds of behavior have to stop. I want those people to understand what they're doing is wrong."
Toure closed down his Twitter account five months ago in order to concentrate on Cote d'Ivoire's campaign at the World Cup in Brazil.
Announcing his return to the social networking website following City's 1-0 win over Manchester United on Sunday, he wrote: "Great to be back on twitter after a good win yesterday. Now my focus is on the next game ... Happy Monday everyone!!"
He received several abusive messages from other Twitter users in reply.
In a subsequent tweet, he wrote: "Thanks for all the welcome back tweets and support. Shame about ignorant minority."
In his interview with the BBC, the former Barcelona star said: "To have such aggression in sport, I can't understand that. That's why I've been trying to fight it.
"Football doesn't have a color. We're just people from all over the world trying to enjoy the game. I never see this in rugby, I never see that in tennis or anything else. I don't know where it's coming from."
Anti-racism charity Kick it Out was one of the complainants to the police, tweeting on Monday: "We are informing the police of racist tweets directed @yayatoure earlier this evening and offer him our full support."
City manager Manuel Pellegrini said on Tuesday he did not think the matter would affect Toure's focus.
"I think Yaya is an experienced player. He is always trying to fight against those things but I don't think he will have any problem about that, to play in the way he knows to do it," Pellegrini said.
"I read the news about what happened but I think the people in charge will do the right things."
Toure was subjected to racist abuse by fans of CSKA Moscow during a Champions League match last season and City has a home fixture against the same club at Etihad Stadium on Wednesday.
Following similar incidents, CSKA was punished by Europe's governing body, UEFA, which ordered it to play three matches - subsequently reduced to two on appeal - behind closed doors.
Under the terms of the punishment, the Russian champion will have no supporters present at Wednesday's match.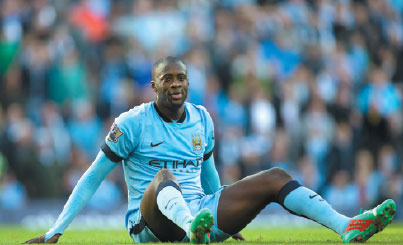 Manchester City's Yaya Toure sits on the pitch after being tackled by Manchester United's Marcos Rojo during their English Premier League match at Etihad Stadium, Manchester, England, on Sunday. Jon Super / AP