Maritime Silk Road plans positive for all
Implementing a new version of the Maritime Silk Road will be a win-win solution for China and other countries along the route, said experts at a forum.
At the three-day Guangdong 21st Century Maritime Silk Road International Expo in Dongguan from Oct 31 to Nov 2, Lin Yifu, an economist at Peking University and former senior vicepresident of the World Bank, said that the initiative would bring new opportunities to countries involved.
"China is seeking to transfer its immense labor-intensive industries elsewhere. That will probably bring opportunities of industrialization and modernization to the countries alongshore, especially those in Southeast Asia, South Asia and Africa," he said during the expo.
"If the countries concerned choose to work together to make investment, trade and travel convenient, they will become the preferred destination for China's industrial transfer and China will also benefit from rich resources and huge market potential there."
Lin said that Guangdong should have a more important role to play in the national initiative due to its favorable location, its history as the bridgehead of the ancient Maritime Silk Road and its current position as China's economic powerhouse with the largest foreign trade volume.
"I hope the strategy to carry out new version of the Maritime Silk Road will bring crucial, historical and strategic opportunities to Guangdong for its new round of economic takeoff," he noted.
Lin's opinions were backed by several experts at the event including Long Yongtu, former secretary-general of the Boao Forum for Asia, and Tang Min, an advisor to the State Council.
"The strategy to build the new version of the Maritime Silk Road must be a grand strategy for regional cooperation," Long said.
"Interested communities should talk and strive together for a common goal."
Long said that different situations should be taken into account to forge cooperative ties with different countries along the road so that all participating countries could benefit.
He said the expo was a brave and innovative step to carry the national strategy forward and added that a committee and secretariat should be launched to turn the event into a long-term organization for creating the new Maritime Silk Road.
According to Tang, all China's coastal regions connecting the ancient road are ready to explore the steps needed to take part in the national program.
However, he said that Guangdong was one step ahead in several aspects.
"The success story of the international expo and forum speaks for the fact that Guangdong spearheads others at least in planning and studies," said Tang. "Not surprisingly, Guangdong has always been a trailblazer in the nation's opening-up."
A senior executive of the Malaysia-China Chamber of Commerce told China Daily that many Malaysian people are well acquainted with the ancient Maritime Silk Road and China's program to build the 21st Century Maritime Silk Road was a popular idea.
"Many Malaysian business people are seeking to do more business with China.
That's why Malaysia has organized a big delegation of more than 1,000 people to the expo," he said.
Tiziana Lippiello, a professor of Chinese language and literature at the Ca' Foscari University of Venice, said that the ancient route, which was used to transport goods in the past, could also carry history, culture, folklore and tourists.
"Cultural travels along the maritime silk road should be encouraged as a way to develop the economy and rescue cultural heritage and local traditions to promote cooperation and development of the countries along the Silk Road," she suggested.
She said that Guangdong was always a privileged region for commercial and cultural exchanges and Dongguan was a marvelous place to host the international event.
zhanlisheng@chinadaily.com.cn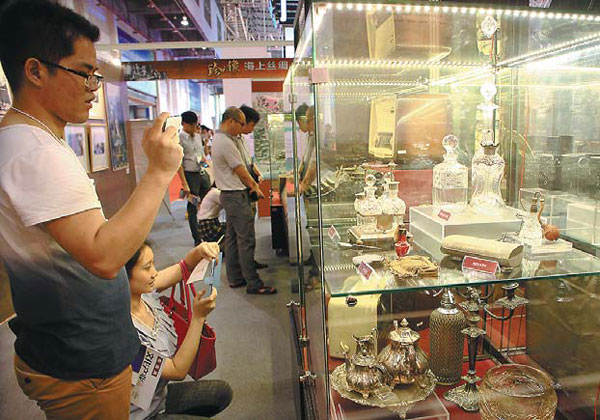 The ancient products at the expo attract visitors from home and abroad. Zou Zhongpin / China Daily