The weird world of Taobao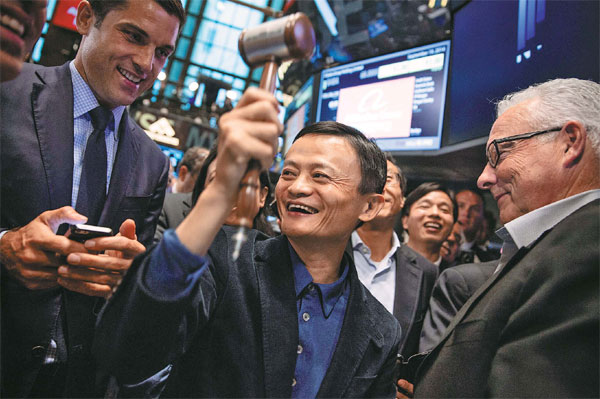 Taobao founder Jack Ma celebrates as the company's stock goes live during the company's initial public offering on the New York Stock Exchange on Sept 19.  Provided to China Daily
From dead mosquitoes to someone to yell at, the e-commerce site is full of oddities
Need a human hamster wheel? A spaceflight? Breast implants? A fake boyfriend? An enchanted totem to engineer a breakup with a real significant other? To scream almost anything at someone on the phone?
How about a squashed mosquito's photo sent to your mobile phone?
If you desire any of these things, or something stranger, look no further than Taobao.
The Chinese answer to eBay has everything anyone would want, and much more besides. Taobao was relatively unknown outside China until recently, when the record-breaking initial public offering on the New York Stock Exchange of its parent company, Alibaba Group, drew worldwide attention.
The country's largest online shopping website isn't just a one-stop shop for shoes, clothes or other daily necessities, which is what most people use it for.
"It's beyond your imagination," says Dutch Sinologist Manya Koetse.
But Taobao's oddities are not merely amusing. They are a testament to Chinese society.
They point not only to the expansion of the country's online shopping but also to the growing pains of marketization, internationalization and urbanization in what is arguably history's fastest-changing culture.
"The rise of the Internet has made Chinese people creative in making money online," Koetse says.
"No matter what they sell or services they offer, there will often be people buying."
The editor of Whatsonweibo.com, which tracks Chinese Internet phenomena, points to services in which you may scream and curse at a stranger on the phone.
"There are people who feel very stressed, and yelling at someone over the phone makes them feel better," Koetse says.
"This means that, one day, somebody thought: 'I'm going to charge money for being scolded'. Taobao makes people come up with the strangest ideas."
But this fosters chicken-versus-egg questions about bizarre Taobao versus its peculiar products.
Such "scolding" services exist because of demand. There are many providers because there are many consumers.
Chinese need release from the mounting pressures of work, exorbitant housing prices and pollution and must support a graying generation, whom they must also gratify, despite immense differences in values.
"I for one love to earn money by being yelled at," says Lemon Consulting Room's owner, who only gives his surname, Chen.
He charges 2 yuan ($0.33) a minute to be abused and shouted at.
"I'm not a psychiatrist. But I'm sure it helps relieve their sadness. A tender voice can be very soothing to the wounded soul. That's why many pay to yell."
People call for diverse reasons, Chen says. "Some experience the deaths of relatives or friends and feel deep sorrow. Some are puzzled by their marriages. Some are betrayed by friends. Some cannot endure the fast pace of life nowadays and think the pressure is too intense. They just can't take it."
"Yet they often can't find a good listener, or vent anger or sadness on the wrong person. Sometimes, a total stranger with no real-life connection may offer the best medium for release."
A Taobao user who only gives her online name Fast Sail sought a different Taobao solution for her failed
marriage's vexations a talisman whose supernatural properties she believes terminated her glum relationship.
"I've never encountered such an insufferable person, dragging me into a marriage without love. He refused divorce because he wanted to sustain a positive image in front of his colleagues and friends but kept seeing other women," she says.
"The magical figurine is very effective. My husband has promised a divorce. I really appreciate the help."
She bought the statuette from vendor Xian Yuange, who says the breakup talisman is among the most popular traditional enchanted items he sells.
"This spiritual figure is used to pray for guidance from the goddess of ninth heaven to break up doomed love or inappropriately obliged couples, so both sides are no longer entwined and quickly split," he says.
"I advise prudence and that clients weigh the magnitude of their purchases. Only if your spouse has engaged in an affair and your marriage is beyond redemption will I sell to you."
Another set of popular and distinctly Chinese "magical" items on Taobao are amulets that profess to buoy test scores a trendy commodity in a country that esteems education within a system that venerates exam results.
The statuettes' powers are unleashed when they are immolated, Xian says.
But there's a caveat. "It only works if you believe in it," he says.
While some use Taobao to end real relationships, others employ it to find fake ones.
Boyfriend rental services are popular among single career women approaching or past their 30s, who face parental pressure to start families.
Hired men often charge additional fees for extra services such as smoking or swilling baijiu (traditional Chinese liquor) with aspiring fathers-in-law.
And whereas some women rent sham suitors for their parents' sake, other phony Taobao "boyfriends" are bought for women's personal needs and are likely to be concealed from their families.
Lonely single women grappling with contemporary life's alienation can order life-sized plastic partners and not just as sex aids. Some of these platonic boy toys come with interchangeable heads, presumably to spice things up.
Vendor Luo Yu's mosquito-killing Taobao service devoted to food safety and environmental awareness largely focuses on killing mosquitoes. That is, mosquitoes that might otherwise "choke" on breast implants.
He sends photos of the squished parasites to customers' mobile phones for a donation of 1 mao per bug to the Magic Baby Bean project, named after a Taobao vendor with leukemia. His pitch is a wisecrack, in which a mosquito tries to gulp blood from a woman's breast but slurps silicon and dies.
It's a satirical interpretation of society's superficiality, environmental protection and food safety.
"It's for fun and a way to raise public awareness about our deteriorating environment and the world's shallowness," he says.
"Even mosquitoes lead hard lives. Our environment is getting really bad. Let's pay attention to food safety."
Luo says he lets the insects gorge on his blood before killing them so they die happy. He has received 24 orders since May.
Ying Jing, who paid Luo to send a dead mosquito photo to his phone, explains why he financially supported such a sardonic initiative.
"His gimmick is good," Ying says.
"So I gave a cent. It's good to contribute to public welfare. I hope we can use many ways to care more about our environment and health."
Most of the weird items and services on Taobao are nearly absent elsewhere, industry insiders say.
"It's not possible for (these items) to be profitable in traditional stores," general manger of Taobao agent Obook Harry Kwok says.
"E-commerce helps locate and condense demand. Logistics' explosive growth also makes the business economically sound. Niche-market customers only constitute a small percentage."
Yet, as with most China market realities, it is about both an economy of scale and a scale of economy.
Koetse believes China's e-commerce sector is "worlds ahead" of Europe's and points to the vast population generating a titanic market.
"Over 45 percent of (China's 1.4 billion people) are on the Internet," she says.
"Taobao is one of China's largest shopping platforms and has millions of visitors every day. Among all those people, of course, there will always be people who want to sell and buy strange items."
Taobaomode.com manager Alan Smith believes abundance breeds specialization.
"There will certainly be more strange and stranger products as so many come out," he says.
"It's proof China's colossal productivity is growing ever-bigger."
Koetse also points out China "has an enormous selection of products".
"No matter where you look in the world, you'll always find made-in-China items. On Taobao, you can buy anything that is made in China. And more," Koetse says.
Yet it is not just products made in China that fuel Taobao's niche markets.
Shoppers can buy insurance that will compensate them if they cannot see the moon during Mid-Autumn Festival or to hire someone to visit their relatives' graves on their behalf during Tomb-Sweeping Festival.
Contact the writers at erik_nilsson@chinadaily.com.cn