Train that has that empty feeling ...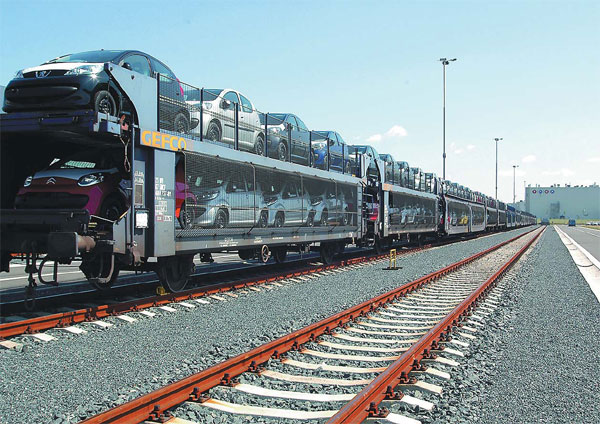 Trains carrying cars shipped by Gefco often make the trek from China's inland cities to Europe via Central Asia.  Photos Provided to China Daily
Logistics firm hauling cars to China hopes long-distance train trips become more cost effective
For anyone running a railway, the bane of life is empty carriages or empty freight wagons.
That is a problem the European logistics company Gefco Group is now grappling with as it sends trains to Europe from China full of cars, but sees many of them come back empty. As for other companies facing the same problem, for Gefco empty cars mean lower profits.
"Finding customers from Europe to fill trains on their return trip to China is one of the biggest challenges for the group at the moment," says Luc Nadal, chairman of the management board of Gefco Group, whose headquarters are in Courbevoie, on the outskirts of Paris.
Gefco, which has a presence in 150 countries, is the international arm of Russian Railways and specializes in automotive and industrial goods logistics. It ranks among Europe's top 10 logistics groups, with more than 350 business locations worldwide.
"With China being a major producer of goods, it is often a one-way operation from China to Europe, and when the train returns, it is mostly empty, which increases our costs," Nadal says.
Though long trains are now frequently making the trek from China's inland cities, including Chengdu, Chongqing, Yiwu and Zhengzhou, to Europe via Central Asia, most are returning empty, Nadal says.
"One customs system is needed along the Eurasian line, and we are working on developing return trips to China to make rail competitive with maritime shipping."
The company is confident that the volume of products carried from Europe to China can only continue to rise, and, correspondingly, that train shipments from Europe to China will not only be feasible but increasingly popular.
"As trade gathers momentum, high-value products such as motor vehicles and electronics will be exported to China by rail in the near future," Nadal says.
"We have been talking with several companies in Europe, and many are interested in working with us to transport their products to Chinese customers, particularly given the country's ever expanding middle class.
"More and more Chinese companies are looking at overseas markets, and our strategy is to support local customers with our worldwide logistics system.
"It takes 15 days or so from China to Europe by rail compared with up to 45 days by sea, and rail is a better choice for high-value products."
The Tianjin European Trade Center held a European trade seminar in Beijing in October that attracted more than 200 European small and medium-sized business in various fields, including food and beverages, home decorating, fashion and lifestyle services, that are keen on selling their goods and services in China.
Ling Chaoxiang, head of the European Trade Center in Tianjin says it will introduce more made-in-Europe products to China while ensuring that Chinese consumers enjoy quality and authentic European products.
Most of the products will be shipped by sea, and expensive items will enter the country by air or by rail, the center says.
"We have talked to many companies, and many want to transport products to China from the likes of France by rail," Nadal says.
"Many European companies doing business with China are already transporting motor vehicle accessories and other expensive goods through our rail offering."
Compared with maritime transport, slow but cheap with substantial capacity, and air freight, fast yet expensive, rail freight is reckoned to be best for high-value products.
Gefco started a door-to-door rail freight service linking China and Europe in April, allowing overland cargo and ocean freight collected at China's major ports to be delivered through the Alataw Pass or Manzhouli, in China's Xinjiang Uygur and Inner Mongolia autonomous regions, to countries such as Russia, Ukraine, Belarus, Poland, Germany and Hungary.
Nadal says that despite motor vehicle logistics not being a major user of rail transport in China, he is confident more will resort to rail, as is happening in Europe.
"Most motor vehicles carried in China are transported by truck, which adds to pollution and is highly inefficient. It is very likely China will start using rail to transport cars in the next 10 years, with a more developed rail system."
Gefco had turnover of 4 billion euros last year, up more than 11 percent on the previous year. It aims to have turnover of 8 billion euros by 2020.
"We plan to double our turnover by speeding up our geographical and cross-sector diversification and through external growth," Nadal says.
The group opened a branch in Chengdu last year and now has 13 branch offices in China. It plans to set up one in Urumqi, capital of Xinjiang Uygur autonomous region, soon.
"We are trying to extend our network and capacities in China, and the western part is definitely our key emphasis in the future," Nadal says.
zhengxin@chinadaily.com.cn