French oil CEO killed in Moscow plane crash
Drunken driver, 'error' by air traffic controllers to blame for accident
Christophe de Margerie, the CEO of Total, the French oil giant, was killed in a plane crash at a Moscow airport late on Monday when his private jet he was using struck a snowplow on takeoff.
Russian investigators said on Tuesday that the driver of the snowplow was drunk and that his actions, along with "an error by air traffic controllers", appeared to be to blame for the crash.
Total, Europe's third-largest oil company, confirmed the death of its 63-year-old boss and said its board of directors would call an emergency meeting.
"Four people were found dead at the scene of the accident, including three crew members and Christophe de Margerie," the company said.
Russian President Vladimir Putin said on Tuesday that he was "shocked by the news" and praised De Margerie as a "true friend of our country".
French President Francois Hollande said he learned of De Margerie's death with "shock and sadness".
Just hours before the crash, De Margerie met Russian Prime Minister Dmitry Medvedev in Moscow.
Authorities at Vnukovo Airport said the Falcon Dassault business jet crashed as it prepared to take off for Paris. Visibility was 350 meters at the time of the accident, they said.
Moscow saw its first snowfall of the winter on Monday.
The airport said its rescue services were sent to the scene and "immediately started extinguishing a fire that had broken out".
Preliminary theory
The crash is being investigated by the Interstate Aviation Committee, which investigates all Russian air accidents, along with experts from Russia's federal aviation agency.
The investigating committee said "it has been established that the driver of the snowplow was in a drunken state".
It added that a preliminary theory was that "an error by air traffic controllers and the actions of the snowplow driver" were to blame.
The possible role of "bad weather and errors by pilots will also be checked," it said.
The plane's black boxes have been recovered.
AFP - AP - Reuters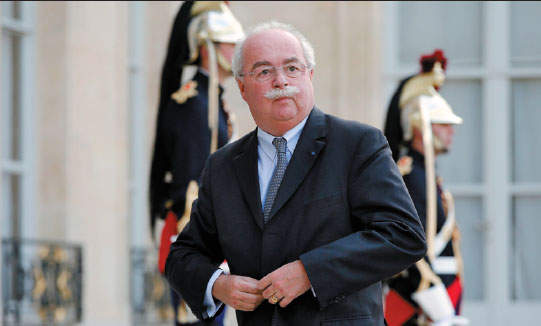 Christophe de Margerie, the CEO of Total, seen attending a dinner at the Elysee Palace in Paris in May, was killed in a plane collision with a snowplow at Moscow's Vnukovo Airport on Monday.  Gonzalo Fuentes / Reuters