A look at China's rising sports stars
As the 2014 Incheon Asian Games came to an end a group of young Chinese athletes emerged from the dominating delegation as promising contenders for the 2016 Rio de Janeiro Olympic Games.
Zhou Qi, men's basketball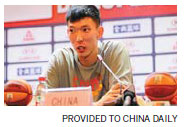 Standing 2.17 meters tall, Zhou, an 18-year-old center, has legitimate potential to become the backbone for Chinese basketball at future Olympics. The tall, slim youngster made his name by leading China to a record 7th place at the 2013 Under-19 World Championship.
Zhou contributed 6.4 points, 6.7 rebounds and 2.3 blocks per game during his first Asiad campaign. His team-high player efficiency rating, an index that measures a player's on-court contribution, finished at 11.86 and he gained big-event experience against accomplished Asian giants like Hamed Haddadi.
Gong Luming, head coach of China, said Zhou still had to improve his "physical strength, man-to-man defense and decision-making mentality".
With China's senior basketball icons Yao Ming and Wang Zhizhi retiring, Zhou carries hefty expectations to help the young team fight to Rio by winning the Asian Championship next year.
Ning Zetao, men's swimming
Despite massive interest in the competition between Sun Yang and Park Tae-Hwan, 21-year-old Ning stole the spotlight in the pool with his good looks and four-gold performance in Incheon, which raised him to stardom from obscurity.
Ning's strength in sprint freestyle events bagged him gold medals in the men's 50m and 100m frees, the 4x100m free relay as well as the 4x100m medley relay. He set an Asian record in the 100m free to become another star alongside distance freestyle sensation Sun. Ning, who trained in Australia, hopes to improve his speed and stroke efficiency, to make breakthroughs for Chinese swimming in sprint events at the 2015 World Championships and 2016 Olympics.
Li Jinzhe, men's long jump
Jumping a personal best distance of 8.47 meters at an international meet in Germany in June, Li smashed the 17-year national record and asserted his presence in the world athletics circle.
The 25-year-old moved on to claim his first Asiad gold medal by leaping an 8.01-meter distance in Incheon, even though he was not yet back to full strength after recovering from a minor injury. Since last November the Beijing native has trained with renowned US coach Randall Huntington, who was the former mentor of world record holder Mike Powell. Li aims to at least hit his personal best result at next year's World Championships in Beijing and hopes for a podium finish at the 2016 Olympics.
Wang Qiang, women's tennis
As one of the younger players following two-time Grand Slam champion Li Na's footsteps to play the Women's Tennis Association Tours, Wang didn't draw much attention until she reached the second round at the US Open at her first major main draw tournament in August.
The 22-year-old, who manages her own career outside China's State-run sports system as Li did, received confidence boosts by winning the women's singles gold medal at the Incheon Asiad. She expects to climb up the WTA ranks to play at more major tournaments.
With Li's recent retirement from tennis the younger generation, led by Wang, will fight to make their own names in the professional ranks and at major sporting events like the 2016 Olympics.
Yao Jinnan, women's gymnastics
As one of the final eight nominees for the official Most Valuable Player awards in Incheon, Yao, a 19-year-old artistic gymnast, proved her legitimacy for the award by winning four gold medals in the women's team, individual all-round, uneven bars and floor exercise disciplines.
After the retirement of the gold-winning senior generation at the Beijing Olympics, Yao has become the new leader of the young women's team, as the only athlete to have competed at the London Olympics. Yao's versatile ability and big-event experience carry expectations for national medal winning in 2016.