Alibaba set to expand 'double 11'
E-commerce giant to use the November day of shopping to grow global presence
China's e-commerce conglomerate Alibaba Group Holding Ltd aims to expand its reach across borders by upgrading its upcoming Nov 11 shopping festival into a global online shopping carnival.
"Globalization" is one of Alibaba's main strategies for this year's double 11 online shopping festival, which falls on Nov 11 every year. The online shopping festival last year was China's largest and ended with two of Alibaba's marketplaces Taobao and Tmall ringing up 35 billion yuan ($5.75 billion) in sales over the 24-hour period.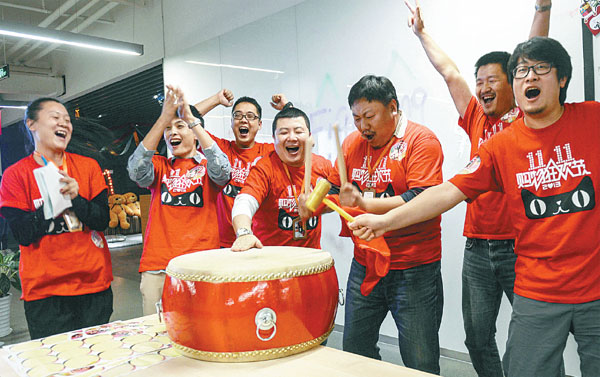 Alibaba's Tmall sales team celebrates its "bumper harvest" of completed transactions on Nov 11 last year. The e-commerce giant expects even better results this year. Han Chuanhao / Xinhua
Wang Yulei, president of Alibaba's business-to-customer site Tmall, said that this year's Nov 11 shopping festival is going to be the group's first shopping event that covers shoppers on a global scale.
According to him, Alibaba has made efforts to help more Chinese suppliers sell to overseas buyers and enable more Chinese shoppers to purchase goods from abroad during the shopping event.
He said that Alibaba has for the first time set up servers overseas, which is expected to enable a rapid and smooth cross-border shopping experience on the day with a large number of people visiting the Tmall site.
What is more, the e-commerce group has also set up warehouses overseas and strengthened cooperation with overseas logistics firms and customs authorities. "More than 200 overseas merchants from more than 20 countries have confirmed participation in this year's 'double 11' event," Wang said.
It is too early to tell whether the sales volume of Alibaba on Nov 11 will go up this year due to its global strategy. Wang from Tmall refused to reveal the sales target, only saying that sales at this year's event will no doubt exceed last year's.
Insiders and analysts have different opinions on sales projections for the 24-hour online event ranging between 40 billion yuan to 100 billion yuan.
Neil Flynn, head equity analyst at Shanghai-based Chineseinvestors.com, a leading financial analysis firm of US-listed Chinese companies, said Alibaba's sales last year of 35 billion yuan was a 83 percent increase from the level recorded in 2012. "I would be looking for a minimum of 50 billion yuan in sales for this year's Nov 11 festival," he said.
Wang Xiaoxing, an analyst with the Beijing-based Internet consultancy Analysys International, said there would be a significant growth in this year's sales, but the growth rate is likely to be less than last year's 83 percent. "The projection is in line with the slowing growth momentum of the overall online shopping market in China," he said.
Both Flynn and Wang said it makes a lot of sense and it is certainly feasible for Alibaba to make this year's Nov 11 shopping festival a global event especially after its sensational IPO on the New York Stock Exchange in September.
"As Alibaba's chairman Jack Ma wants the group to hit the long-run target of 100 billion yuan in sales, they can't rely on Chinese consumers spending more and more each year on the same products. They need to expand their product range, which will increase the average purchase value in China, and they need to expand their customer base," said Flynn.
"This (global Nov 11 shopping festival) also provides a great way for Alibaba to establish themselves on a global scale. It remains a China focused firm, but if it offers significant discounts to consumers abroad, then they can expand their reach across borders," he said.
Wang from Analysys International said that Alibaba may be a familiar name for Western shoppers after the group's IPO, but there is still a long way to go for the group to compete in matured Western markets with strong local competitors.
"The deliveries in cross-border online shopping usually take a long time, and Alibaba will have to grapple with the challenge of ensuring high-quality after-sales services to Western shoppers," he said.
Flynn also has doubts as to whether Alibaba can compete with its American counterparts at this moment. "Tmall and Amazon provide very similar services, and Western customers have been using Amazon for years," he said.
mengjing@chinadaily.com