Morocco mulls legal marijuana growing
Abdelkhalek Benabdallah strode among towering marijuana plants and checked the buds for the telltale spots of white, indicating they are ready for harvest.
By September, much of the crop has been picked and left to dry on the roofs of the stone-and-wood huts that dot the Rif valley, the heart Morocco's pot-growing region. Benabdallah openly grows the crop, despite the risk.
"We are regularly subject to blackmail by the gendarmes," he said as he scythed through stalks and wrapped them into a bundle.
Morocco's marijuana farmers live in a strange limbo in which the green fields are largely left alone, while the growers face constant police harassment. A new draft law may bring some reprieve: It aims to permit growing for medical and industrial uses such as textiles and paper, in what would be a radical step for a Muslim nation.
That could alleviate poverty and social unrest, but the proposal faces stiff opposition in this conservative country, as well as the suspicions of farmers themselves, who think politicians can do nothing to help.
Morocco is joining many other countries, as well as some states in the United States, in re-examining policies toward drugs and looking to some degree of legalization. But Morocco's Islamic faith creates a strong taboo toward drugs, despite the centuries-old tradition of growing the plant in the north.
Morocco is one of the world's top suppliers of hashish. The World Customs Authority reports in 2013 that 65 percent of hashish seized at customs worldwide came from Morocco, with most of that going to Europe.
Estimates vary wildly for how much the business is worth, but legalization would certainly provide a substantial boost to farmers and to Morocco's anemic economy, which will grow by just 2.5 percent this year.
But the farmers who cultivate the marijuana plants remain suspicious of any measures by politicians who they claim have never done anything for their poor, neglected region. They fear that legalization might depress the already low price of $8 a kilogram they receive.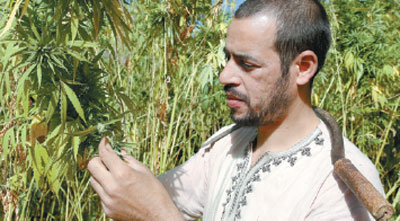 Abdelkhalek Benabdallah inspects his cannabis fields in Ketama Abdelghaya valley, northern Morocco. Abdeljalil Bounhar / Associated Press