Role of Kuomintang veterans recognized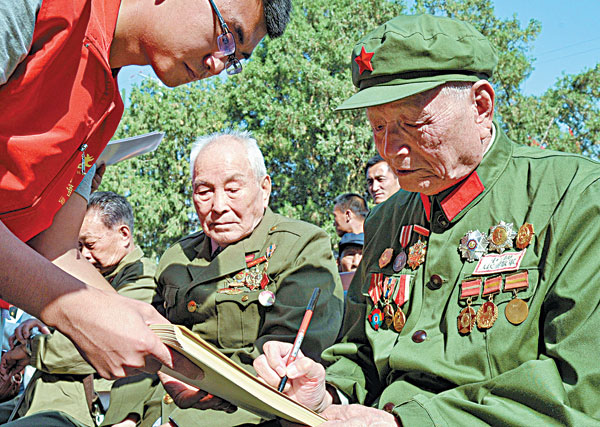 A veteran signs his name in a book for a volunteer on Sept 3, marking the 69th anniversary of China's victory in the War of Resistance against Japanese Aggression. Guo Gang / Xinhua
Xia Xiaobo cannot wipe from her mind the memory of her first trip to Tengchong, Yunnan province, in much the same way she failed to wipe the accumulating rainwater from the gravestones in Tengchong Guoshang Cemetery nearly a decade ago.
"There they were, scattered across the mountain slope under a leaden sky," recalls Xia, who is now 21. "The rain was persistent and cast a misty gauze over the surroundings, while streaming down the grey stone slabs. Even to a little girl, they were a sad and lonely sight. When I looked closely, some didn't even have names."
More than 3,000 soldiers of China's Expeditionary Force are buried in the 13-acre plot of land. They were among the 9,168 who died in 1944, during the four-month battle to retake the county of Tengchong from the Japanese.
Xia says she knew nothing about what had happened 70 years ago until her mother, who is a big history buff, took her to the cemetery on a detour from their usual sightseeing.
What her mother probably never imagined back then was her daughter would return 10 years later, not as an impressionable youngster, but as a seasoned volunteer dedicated to unearthing the truth of history and making sure that those who had fought in war and are still alive can live out their final days with love and respect.
"I went with dad in July last year to talk to some surviving veterans, most of whom are in their 90s," said Xia. "With all the historical material I'd read in between the two visits, I felt I was finally able to engage myself in the dialogue, and to say a heartfelt 'Thank you'."
Xia belongs to a fast growing number of young Chinese volunteers who have made it their mission to rediscover the country's wartime history and honor some of its long-forgotten heroes.
Other half of the story
"The war against fascist Japan was fought by both the Nationalists under Chiang Kai-shek, leader of the Chinese Nationalist Party, or Kuomintang, and the Communists. But with the ensuing civil war (1945-48) and the ultimate triumph of the Communist Party of China, half of that resistance story passed into oblivion," said Wang Guan, the 27-year-old founder of the Nanjing-based non-governmental organization 1213 Volunteers Association. The number stands for Dec 13, the day the occupying Japanese troops embarked on the Rape of Nanking.
"Also passing into oblivion were the Kuomintang soldiers who were part of that story, veterans who had long learned to bury their precious memories in the back of their minds," she said. "But things really started to change in the early 2000s."
Wang was referring to the landmark speech made in 2005 by then-president Hu Jintao. In the speech, delivered on the 60th anniversary of the end of the World War II, Hu paid full tribute to "the battlefield at the front", where the Kuomintang army collided with the Japanese, at a huge human cost. This year, President Xi Jinping invited both Communist and Kuomintang veterans to a ceremony on July 7 at the site of the Marco Polo Bridge in Beijing where the Chinese army fired the first bullet against the Japanese invaders on that day 77 years ago.
"The leadership has sent a clear signal. But for us young volunteers who were born in the 1980s and 1990s and who grew up learning very little about the Nationalist participation in the war, getting to know the story in its entirety is a deeply personal undertaking," Wang said. "By digging into history, I have reconnected myself with the spirit of my country."
In 2007, she accompanied an 88-year-old veteran to the bridge. He stood silently on the bridgehead for a long time, then before turning to leave, the old man bowed and said just one thing: "I'm sorry, Captain. My job was to protect you, but you died, and I'm still alive."
"I saw tears running down his face and knew for the first time in my life what loyalty means," Wang says.
Although young volunteers are invariably impressed by the stories that surface during their talks with the veterans, it is these men's grinding poverty that causes the biggest initial shock, said Wang Yi, a high school Chinese language teacher. Over the past few years, Wang has been taking her students, mostly between 13 to 15 years old, to regularly visit Nationalist veterans from the war, in her native Jilin Province.
"The majority of my students, at a local private school, come from well-off families. For them, the sight of an old, frail man enduring loneliness in a humble shack is upsetting enough. Many of them burst into tears before anything is said," recalls Wang Yi. "And if the pitiful condition of these men in their twilight years arouses sympathy in their hearts, then the knowledge that these men had once fought the invaders totally confused, if not outraged, them."
Wu Hanzhong is a former Nationalist soldier from those days. When Wang Guan found him, on the outskirts of Nanjing, he was literally living in the junk.
"Inside his crumbling little house, dust was dancing merrily in the slanting beams of sunlight that had penetrated the wood-boarded roof. We decided to send him to a local nursing home for the elderly," Wang Yi says. "A few days later, we drove a car to pick him up. He took with him a gentleman's hat that had previously hung in the corner of his room, to hide a slit in his trousers. The next time I visited him at the nursing home, he had drawn me a long list of books that he wanted to read."
It turns out that the man, now 91, was a graduate from the renowned Whampoa Academy. Established by Sun Yat-sen, founder of the Chinese Nationalist Party, back in 1924, it was the country's first modern military academy.
"For a university graduate like me, getting to know these men has been a humbling experience. They surprised me not only by what they had been through, but by what they had managed to keep despite what they had been through."
A cautionary note
Since 2012, Wang and the 1213 Volunteers Association have sent 12 veterans to nursing homes. They also give 500 yuan ($80) a month to each of the 45 veterans on their support list. All the expenses are paid by donations to the NGO.
"Our own website has made it happen," said Wang. "In the early days, we gave the money to a beneficiary, let him sign, photographed the receipt and then posted it on the Internet for our donors to see. Credibility is everything."
Li Lei, a seasoned volunteer who has become a minor celebrity within his circle, believes that by involving themselves, the young generation has added crucial momentum to a cause whose survival relies heavily on public awareness.
"The first outcry came around 2007, when people started to engage in instant messaging using their cellphones. Within months, numerous clues regarding the existence of these old soldiers appeared on the screen of my phone."
The second wave of publicity came a few years later with the introduction of micro blogs,
"Never underestimate star power. If I have written something on my blog and a celebrity chooses to forward it, then the same message stands the chance of being read by tens of thousands of people," he said. "There's really no faster way to build up a following."
And it is the vast potential of modern media that the younger generation is fully equipped to tap, Li says.
"Moreover, they are also great events organizers, making our cause appeal to a wider public," he adds.
However, Lai Endian, a Beijing-based documentary filmmaker, who retraced the route traveled by the Chinese Expeditionary Forces, under the then Chinese Nationalist Government, from the border province of Yunnan to Burma during WWII, says young people are also very susceptible emotionally to the stories and situation of the veterans they meet.
"The initial days after my first glimpse of that history were filled with craziness. I went crazy looking for every Nationalist veteran I could find. I listened to their stories, and shed tears with and for them," he said. "It has taken almost 10 years, and speaking to more than a few hundred of them for me to really start calming down, and to considering my position as a recorder of history."
"They are our heroes there's no doubt about that," he adds.
But the 32-year-old cautions that one should remember that the veterans, often because of age, may not always remember things correctly.
"And remember: never go to extremes. Because by going to extremes, you risk committing the same wrong that was committed before," he warns.
Wang Yi, the high-school teacher, believes that history is infinitely more complex than people ever fully grasp. She says she wants her students to learn one thing from their visits to the veterans, "and that is love".