Mexican artists reinterpret China's culture in Beijing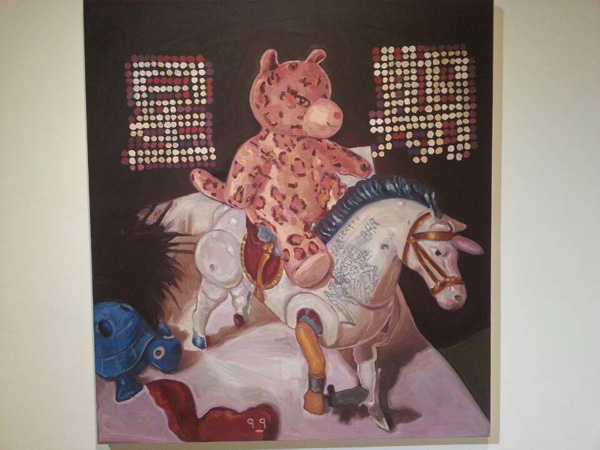 The "Made in China" show in the NAO NOW Mexico-China project opened on Sep 20 in Beijing, closing up the cultural and art exchange project since two months ago. Provided to China Daily
A cultural exchange program between Mexico and China features an exhibition in Beijing of 90 pieces of work by nine Mexican contemporary artists and 15 pieces they created while living in the capital city, which show how they view Beijing.
Lost Horizon is the first event in the art project called "Nao Now", which opened in July. It is co-hosted by Mexico and the Xu Yuan Gallery in Beijing and is set to end this month. Most of the art work has been exhibited at the gallery in the capital and some in Jinan Arts Museum in Shandong province.
"Nao" comes from "La Nao de China", a trade route between Mexico and China, and the English word "now". The phonetic repetition "Nao Now" in Chinese sounds like "brain-brain" and refers to the intellectual and cultural exchange between two countries. The project seeks to reinterpret the trade route into a cultural exchange route that can open new links between China and Mexico.
The project includes a series of sub-exhibitions.
At the opening ceremony, participating artist Valerie Campos spoke briefly about her experiences in art.
"Edward Twitchell Hall Jr. once said the best to way to know your self is to look through others' works and creations. Now we are exploring ourselves by looking at what's beyond the Pacific Ocean," said Campos, according to Beijing Today.
Nacho Chincoya, one of the nine Mexican artists, was invited to put his work on the walls of a space in a hutong, a traditional and ancient compound in Beijing. Chincoya stayed and painted in the gallery of 56 Dongsi Jiutiao, the very center of the hutong compound. Made in China was the theme of his work in the exhibition.
"All of my works expressed my feelings for the city even before I came here," he told China Daily. "I did not feel alienated in Chinese culture. Instead, I found it quite at home and got immensely inspired by so many different elements."
A giant acupunctured lion that he painted on a white wall was among one of his favorite pieces, and represents his horoscope sign, Leo, and his use of the traditional Chinese medicine of acupuncture in Mexico.
Though the project's main goal is to expand communications between Latin America and Chinese cultures, many of the artists will take their work to New York later this year.
"I hope I will be back and the ties established between me and the culture here will continue," said Chincoya.