United with Manchester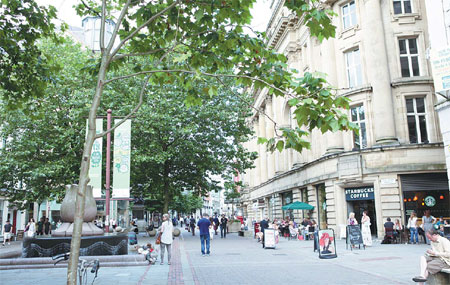 Manchester's city center: its links with China are growing fast in many directions. Photos by Cecily Liu / China Daily
Partnerships with Chinese companies and institutions are helping a former industrial hub in the UK expand
Cathay Pacific's addition of a direct flight between Hong Kong and Manchester starting in December is a perfect metaphor for the synergy that has come from closer ties between the northwest English city and China. Like better international travel connections, trade and investment in recent years between the rapidly growing Chinese economy and Manchester are experiencing a surge.
"Manchester's links with China are growing fast in many sectors," says Philomena Chen, head of Asia Pacific development at UK Trade and Investment, whose work focuses on England's northwest.
Manchester, a onetime Roman fortress that became a manufacturing, scientific and trading powerhouse in the 19th century with the Industrial Revolution, saw its fortunes decline in the 1950s.
But that is changing, and the China connection has given the city a lift.
Manchester's strongest sectors now include professional and financial services, engineering, high-end technology, education and creative sectors, Chen says.
Take the high-profile Airport City Manchester project, an 800 million pound ($1.3 billion) business park next to Manchester Airport, which authorities hope will become a globally connected business hub.
Chinese engineering group Beijing Construction Engineering Group International will build half the facility, alongside Carillion, the UK-based services and construction company.
BCEG also will help market the project in China to attract Chinese companies to locate their European headquarters in the business park.
Last year saw the establishment of the Manchester China Forum, which facilitates business and cultural exchanges between organizations in the two locations.
Other organizations like the government's UK Trade & Investment, Manchester's local investment agency Midas, and China Britain Business Council, are all working to strengthen the two-way relationship.
Another important link between Manchester and China is education, as Chinese students help Manchester build links with China with other students in the city and after they return home, says Ian Jones, international partnerships manager at Manchester Metropolitan University.
The university has been keen to create opportunities for its students to gain hands-on experience in China, and one example is its students' participation in designing a trade stand at the Shenzhen International Fair for Apparel Fabrics in 2013. The initiative was led by students from the university's events management and fashion courses, with the fashion students displaying their own work on the catwalk at the three-day event.
The University of Manchester, a large research university, has about 3,000 Chinese students this academic year, which is a large portion of the university's total of 40,000 students, says Mike Gibbons, director of student recruitment and international development.
The university also has undergraduate student exchange arrangements with a group of top institutions, including Beijing Normal, East China Normal, Fudan, Nanjing and Zhejiang universities.
It is the second university in the United Kingdom to set up a Confucius Institute, which is an educational institute supported by the Chinese government to help people of other nations learn Chinese language and culture.
The University of Manchester Confucius Institute was launched in 2006 in partnership with Beijing Normal University, says Karen Wang, external relations manager of the institute.
Wang says the institute now has more than 600 students in courses lasting more than six hours, and in addition it hosts cultural events that attract thousands of students, and participates in other programs.
For five years the institute has been involved in the Manchester Literature Festival, inviting one author a year to talk about their writing.
"We try to participate in more established events so a wider audience will want to check out our events. It's also a good way to save costs because we'll be able to share event venues, and receive help in terms of marketing the events," Wang says.
In 2010, Wang's team also helped bring an aviation show from China to the Museum of Science and Industry in Manchester. "A lot of the Chinese shows overseas are quite traditional, and we wanted to bring to the Western world a more modern and rounded image of China," says Wang.
Manchester Business School is one of the earliest international universities to offer short-term business courses aimed at Chinese government officials and industry practitioners, starting in 1985, says Alan Wu, director of China Programs at Manchester Business School.
Wu says his team designed the courses for decision makers in China's Ministry of Commerce, who hope to learn how policies are made in Western economies. It also targets decision makers in the China offices of Fortune 500 companies.
In 2008, Manchester Business School established a campus in Shanghai that now offers a Global MBA course to Chinese students.
"It's a course designed for those who do not wish to leave the workforce but still receive further education. They can also spend a part of their time in our other campuses to gain an international perspective," says Wu.
The University of Salford, a public research university with technical roots, near Manchester, is another institution with research expertise it can share with China. Maggie Pearson, a pro-vice chancellor and dean of the College of Health & Social Care at the university, says she is working with the International Hospitals Group on a healthcare center project in China.
The international Eco City Project, located in Guizhou province, is a new construction that integrates a tourism resort with a healthcare facility. Pearson says she will contribute to the project by sharing her knowledge on how to make the healthcare facility user friendly.
Many of Manchester's businesses also are gearing up for the Chinese market. In the technology sector, one example is aviation training equipment maker EDM, which now generates 85 percent of its export sales from China.
Since entering the Chinese market in 2008, EDM has won a wide variety of both commercial and military clients including Air China and aircraft builders Aviation Industry Corporation of China and Commercial Aircraft Corporation of China.
Lee Whittaker, a sales executive for EDM, says entering the Chinese market has been a turning point for the business. Whittaker says the great amount of attention that EDM now devotes to the Chinese market is related to the fact many Chinese airlines have recently placed many orders for new aircraft, creating a demand for training equipment.
In 2008, EDM formed a partnership with Xi'an Feibao, a Chinese company that shares a similar portfolio of products as EDM.
With Xi'an Feibao's help, EDM secured new Chinese customers - Xi'an Feibao was receiving many orders from Chinese clients and could not fulfill all the orders themselves.
At the same time, Xi'an Feibao also imported a lot of real-time visual simulation systems produced by EDM called SEPTRE.
The SEPTRE system is software that incorporates synchronized motion, sound and visuals into the training experience, so sitting in the trainer would provide an experience similar to real life situations on board the aircraft.
The system uses a series of image generators at each window to provide a variety of seamless real-time scenes from land and ocean to sky scenes, and special effects including an engine fire and left main gear collapse.
Because this software was developed by EDM, it's difficult for competitors to replicate, a great selling point for the company in China.
Another high-tech company selling to China is M&I Materials, which is a company born out of the research division of GEC Alstom, making niche products that are important components for high-tech manufacturing and infrastructure projects.
One product it makes is metrosil, which is used in several major Chinese hydro power stations including the Three Gorges, Xiluodo, Xiangjiaba and Nuozhadu dams. Metrosil is a range of non-linear resistors used to protect equipment and electrical insulation from the effects of over voltage.
Another M&I Materials product that sells well in China is Midel, which are high performance transformer fluids used on many of China's trains to provide electrical protection.
James O'Brien, head of resistor technologies at M&I Materials, says China is a very important market for his team and he expects sales from the Chinese market to grow, especially as M&I Materials seeks to secure more clients in China's energy sector.
Technology aside, Manchester also has vibrant digital, arts and creative industry communities that also have growing ties to China.
One reason behind this sector's huge growth is the local government's investment in this sector, and Manchester's flagship digital production complex, The Sharp Project, is a good illustration of this.
The Sharp Project, which is in an old factory formerly occupied by the electronics giant Sharp, has been converted to offices hosting around 50 digital entrepreneurs with support from the local government.
Rose Marley, chief operations officer of The Sharp Project, says some of the companies are now doing businesses with China and she hopes this trend will grow.
Manchester is also home to the popular biennial arts and culture event Manchester International Festival, which started in 2007 with the showpiece production Monkey: Journey To The West, a reworking of the ancient Chinese legend.
The festival is known for launching new shows and performances. Each has several initial partners who contribute to the show's funding. After the Manchester performance, they can take the shows to their own countries.
Alex Poots, CEO and artistic director of the festival, says he hopes his team can attract more Chinese partners for new productions in the future, as the presence of Chinese partners would allow the productions to be taken to China.
"China is a growing superpower, like America was 100 years ago. If you read the history of America, it's not just about being powerful economically but culturally, so people in China would want more culture in the future," says Poots.
Another key business opportunity present in Manchester is property investment, which recently has become an important trend because North England's property market presents higher rental yields compared to London, says Graham Davidson, managing director of Sequre, a property investment agent.
Davidson says recently his team has witnessed interest from quite a number of Chinese property buyers who got in touch after word of mouth recommendations.
He says normally Chinese investors invest in the Manchester buy-to-let property market when they have children studying in the country, so they feel familiar with the market.
Meanwhile, the architecture company BDP is expanding its activities in China. Founded in 1961 in Preston, a city 30 miles north of Manchester, BDP has since expanded to set up offices in six countries including China.
Gavin Elliot, director of architecture at BDP, says BDP's Shanghai office now has about 50 people and is rapidly expanding. He says BDP's China projects are spread across retail, residential, urban design, and educational campuses.
Elliot says the Xi'an Jiaotong Liverpool University's new campus is a project he has personally worked on, and he found the work challenging and exciting because in China the speed of construction work is much faster.
Other projects that BDP has worked on in China include Suzhou District Planning Exhibition Hall, Suzhou Tourist Center and Wuxi Ikea Shopping Mall.
Manchester has also seen a few Chinese acquisitions of local companies, which led to great growth for the Manchester operations. One example is Chongqing Machinery & Electric Co's 2010 acquisition of Precision Technologies Group, which makes advanced machine tools.
Another is Globelink China Investment Limited's acquisition of CBI Global, which is a Manchester-based logistics company.
Globelink and CBI established a partnership to provide a joint logistics service, taking advantage of each other's regional strengths. The partnership led to the acquisition, and since then Globelink has invested in CBI to allow it to grow, Sleigh says.
cecily.liu@chinadaily.com.cn