Henan's first provincial-level official removed in probe
More officials in Henan province are facing investigation for alleged corruption after a top official came under suspicion.
Qin Yuhai, deputy head of the provincial legislature, was removed from the post on Tuesday. He is the first provincial-level official in Henan to be investigated since the ongoing high-profile anti-corruption campaign began.
The 61-year-old is known as an avid photographer who often attends social activities as a shutterbug.
According to the website of the China Photographers Association, Qin won the country's top award for photography in 2007, and his works have been collected by the National Art Museum of China and exhibited in Paris and London.
In an interview with the World Photography Organization in May, Qin said he took up photography after he was transferred from Heilongjiang province to Jiaozuo, Henan province, in 1998. He said he was amazed by the beauty of the city's Yuntai Mountain and wanted to capture its grandeurwith a camera.
Yuntai Mountain has since become an enduring subject of Qin's photographs. In addition to displays in Beijing and Shanghai, many of Qin's photos featuring the mountain's scenery have been exhibited at subway stations in such major cities as Xi'an and Shenzhen.
A staff member with the Scenic Area Administration Committee of Yuntai Mountain said on condition of anonymity that the committee paid to place lots of light box ads in Beijing subway stations, and all the photos of the mountain scene were taken by Qin.
Han Yueping, former director of the administration committee, has been "taken away" and is now under investigation by the Henan provincial commission for discipline inspection, according to Beijing News.
People with knowledge of the situation in Jiaozuo, where Qin used to be the top official, said at least three more officials are being investigated.
Chang Hong, a senior official in the resource-rich city who used to govern the Yuntai Mountain area, was one of them. When China Daily called his office, a man said Chang was no longer working there and that news media should consult the provincial anti-corruption organization.
Photographs by Qin that were displayed in subway stations in Beijing and Shanghai have been removed following the news of the investigation.
It was unclear whether Qin profited from the subway photos.
Other senior officials who have been investigated or punished for corruption have also been known for their avid pursuits.
Shen Weichen, Party secretary and executive vice-president of the China Association for Science and Technology, who was removed from his post for corruption in April, loves the performing arts.
Liu Zhijun, China's former railway minister, is known to have a fondness for feng shui, or Chinese geomancy.
He is said to have asked a feng shui master to pick the proper time to launch important railway projects.
Sun Li in Fuzhou contributed to this story.
qixin@chinadaily.com.cn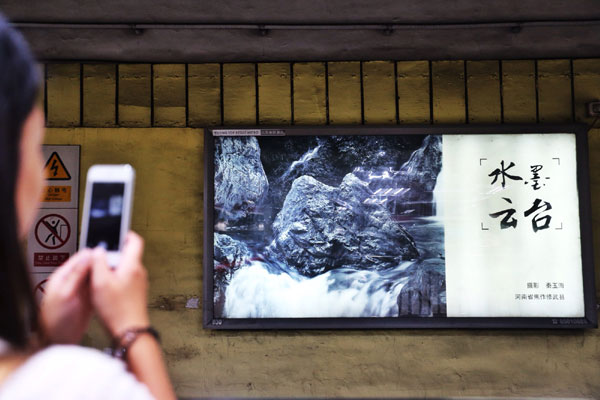 Photographs by Qin Yuhai that were displayed in Beijing subway stations have been removed.  Hong Yu / For China Daily