China, Mexico relations begin 'new chapter': Ambassador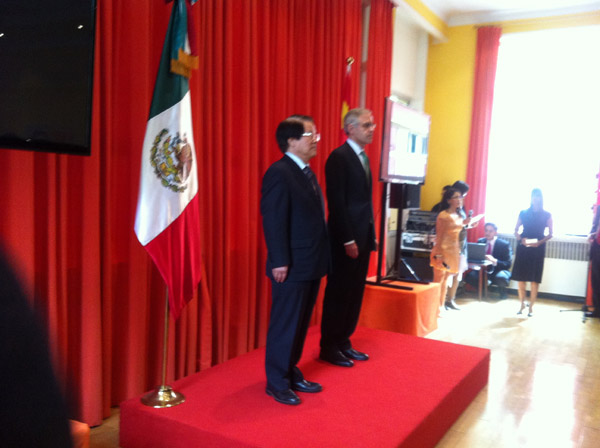 Cai Wu (left), the Minister of Culture in China and Jorge Guajardo, the Mexican ambassador of Mexico to China, give opening speech for the celebration of the 204th independence day of Mexico. Ambassador Jorge Guajardo said Wang Yi, Chinese Minister of Foreign Affairs, will visit Mexico later this year, which will make great enhancement of the bilateral relations between China and Mexico. Zhang Yuchen / China Daily
Relations between China and Mexico have risen to a new unprecedented level and there are more positive opportunities for various areas of cooperation than ever before.
In the tourism industry with new air routes, and more high-level meetings with CEOs of Chinese and Mexican companies, the ties between the countries grow tighter, said Mexican Ambassador to China Julian Ventura at a reception at the Mexican Embassy in Beijing on Sept 17 to celebrate the 204th anniversary of independence, which falls on Sept 16.
There are more moves to welcome high-quality Mexican agricultural products in China, along with exported manufacturing products, the ambassador said, adding that the next step will be emphasizing the practical outcome of further cooperation. 
Several meetings of high-level officials over the past year have heralded the beginning of a new chapter in bilateral relations between Mexico and China. Much closer relations should be established through more cultural exchanges, he added.
The ambassador expressed his gratitude to China's Culture Minister Cai Wu for attending the event. He said that Cai's being there showed that both sides attach great importance to Sino-Mexican cultural exchange and interaction. Mexico will have more and more "Chinese participation", while China will see more "Mexican elements", he said.
Ventura also said that this year was a special one for Mexico-China relations, because Mexico, like China, had adopted a series of far-reaching structural reform measures that would take Mexico to new heights.
The ambassador further emphasized the significant progress made in bilateral relations, referring to the depth of the friendship between the two countries and their strong willingness to cooperate.
Ventura also said he was looking forward to the visit of Wang Yi, China's minister of foreign affairs, later this year, as part of the effort to get the two sides to continue to deepen and consolidate their comprehensive strategic partnerships.
President Xi Jinping and President Enrique Nieto have injected new vitality into the relations between the two countries. "I believe in the future there will be more exchanges and cooperation with China, and cultural exchanges between the two sides will also become more close," Ventura said.
The following months in Beijing will see more Mexican cultural events open to the public to enhance the communication efforts, including an interactive exhibition called Encuentrate con Mexico from the end of October to November.
A well-known Mexican Mariachi band played traditional music during the reception.
zhangyuchen@chinadaily.com.cn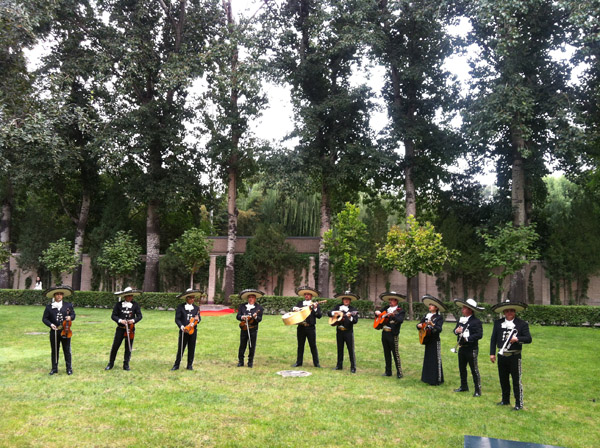 Mariachi Band played for the celebration of Mexican Independence Day, which was on Sept 16 in 1810, at their Embassy in Beijing on Sept 17. Zhang Yuchen / China Daily