US not ruling out ground troops in Iraq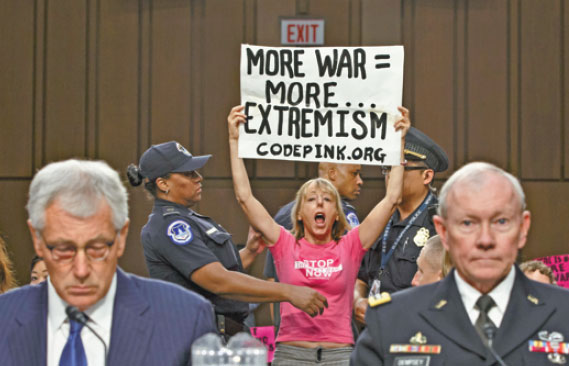 A protester interrupts a US Senate hearing with US Defense Secretary Chuck Hagel (left) and General Martin Dempsey, chairman of the Joint Chiefs of Staff, in Washington, on Tuesday. J. Scott Applewhite / Associated Press
White House says Obama would not deploy soldiers in a combat mission
The top military officer in the US raised the possibility on Tuesday that US troops might need to take on a larger role in Iraq's ground war against Islamic State militants, but the White House hastened to say that any such decision would not involve a combat mission.
The militant Islamic State group has released a video warning the United States that fighters await in Iraq if US President Barack Obama sends troops there.
The 52-second video entitled "Flames of War" shows wounded US soldiers, militants blowing up tanks and people about to be killed. It then shows a clip of Obama saying that combat troops will not return to Iraq, ending with a text overlay reading, "fighting has just begun".
Martin Dempsey, chairman of the US military's Joint Chiefs of Staff, said there was no intention now to place US military advisers on the ground in direct combat. US assistance is currently taking other forms, including airstrikes.
Dempsey outlined scenarios in which he might recommend having US troops do more, potentially in accompanying Iraqis during complicated offensives, such as a battle to retake the northern city of Mosul.
"It could very well be part of that particular mission to provide close-combat advising or accompanying for that mission," Dempsey said.
Dempsey acknowledged that Obama's "stated policy is that we will not have US ground forces in direct combat".
"But he has told me as well to come back to him on a case-by-case basis," he said.
Obama said last week he would lead an alliance to defeat Islamic State militants in Iraq and Syria, plunging the US into a conflict in which nearly every country in the Middle East has a stake.
'Hypothetical scenario'
Obama has ruled out a combat mission, saying that "we will not get dragged into another ground war in Iraq". How, exactly, the role of the US might evolve in the open-ended conflict remains unclear.
Responding to Dempsey's comments, the White House said Obama's military advisers had to plan for many possibilities but that overall policy had not changed: Obama would not deploy US troops in a combat role in Iraq or Syria.
White House spokesman Josh Earnest told reporters that Dempsey was "referring to a hypothetical scenario in which there might be a future situation where he might make a tactical recommendation to the president as it relates to ground troops".
Dempsey's spokesman also issued a statement stressing that the general's exchange in the US Senate was not about "employing US ground combat units in Iraq".
Dempsey was testifying before the Senate Armed Services Committee, along with US Defense Secretary Chuck Hagel, as the Obama administration makes its case to Congress for broadening operations against the Sunni militants - operations that would include US airstrikes in Syria for the first time.
Reuters-AP-AFP