Bringing precious relics back home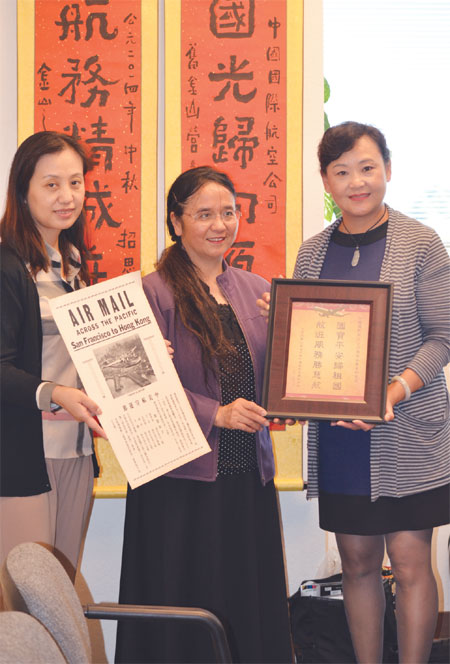 From left: Han Liang, sales manager of Air China; Zhao Sihong, a famous wartime relics collector in the San Francisco Bay Area; and Zhao Litao, general manager of Air China's San Francisco office, take a group photo after a press conference at Air China's office in South San Francisco, California on Thursday. Lian Zi / China Daily
Over the past eight years, more than 4,000 historical relics and documents with a connection to China that have been scattered abroad have been returned to Chinese museums. Thanks goes to someone named Zhao Sihong, a collector in the San Francisco Bay Area, and Air China.
A press conference was hosted by Zhao at Air China's office in San Francisco on Thursday to thank Air China for its strong and continued support in her efforts.
Zhao said she had taken more than 25 Air China flights back to China to deliver relics to museums. "Air China protected our relics very well without any damage," Zhao said, adding that many of the items were extremely delicate and not easy to keep from being damaged in handling and shipping over such a long distance.
Zhao Litao, general manager of Air China's San Francisco office, was moved by Zhao's contributions in rescuing precious relics and restoring them to China. "On behalf of Air China, I greatly appreciate Zhao Sihong's trust and will continue to assist her in promoting the relics' return to the motherland," Zhao Litao said.
Relics collected by Zhao Sihong include Chinese manuscripts, original historical photographs, documents and letters that depict Chinese-American immigrants' lives in the US and valuable relics related to the anti-Japanese War, Zhao Sihong told China Daily, adding "these relics offer audiences a direct visual look at the truth of history".
Zhao Sihong displayed a stamp to the audience. "This stamp, with a face value of five cents, was issued by the US Postal Service in 1942 to commemorate the fifth anniversary of the start ofChina's anti-Japanese War in 1937," she explained.
Xiao Xiayong, Chinese counselor in San Francisco, said that precious wartime historical documents and photographs collected by Zhao Sihong provide new evidence about the history of collaboration between China and the US during World War II.
Zhao Sihong said the relics could not have been sent back to China without the support of local social media, donations and readers of her book.
"I have already spent all of my $50,000 in savings on rescuing and bringing relics back to China and really appreciate Chinese Americans in the San Francisco Bay Area who have donated relics for free," she said.
Zhao Sihong migrated from China to San Francisco in 1988, and currently serves as the secretary of the US Chinese Collection Association. Over the years, she enthusiastically engaged in public welfare activities and donated thousands of Chinese overseas relics to Chinese museums.
zilian@chinadailyusa.com