Putin urges EU to use 'common sense'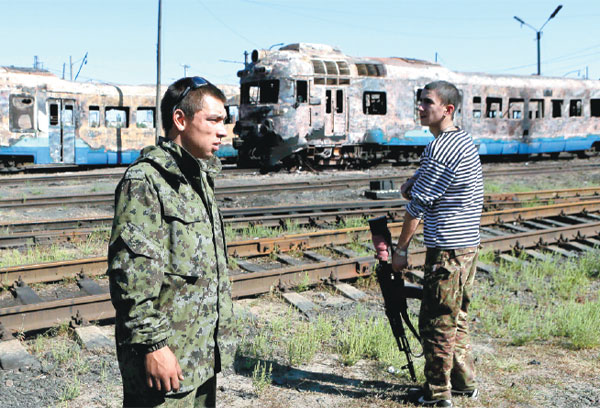 Separatists stand in front of destroyed trains at a railway station in the eastern Ukrainian town of Ilovaysk on Sunday. Ukraine's military said on Monday it had pulled its forces back from defending a vital airport in the east. Maxim Shemetov / Reuters
Ukraine's president accuses Russia of 'direct and open aggression' in crisis
Russian President Vladimir Putin urged the EU on Monday to show "common sense" and refrain from engaging in mutually destructive sanctions - his first public reaction to the threat of additional punitive measures over Russia's involvement in Ukraine.
"I hope that common sense will prevail, ... that we will work together normally and that we and our partners will not cause harm by poking at one another," Putin was quoted as saying by Russian news agencies during a visit to Yakutsk in eastern Siberia.
The remarks came a day after European Union leaders gave Russia a week to reverse its course in Ukraine or face a new round of sanctions.
The EU's newly nominated foreign policy chief Federica Mogherini said Putin's Ukraine policy had resulted in economic sanctions that were hurting his own people.
Mogherini told Italy's Corriere della Sera newspaper on Monday that sanctions remained "a tool" in brokering what had to be a diplomatic resolution to the Ukraine fighting.
"The point is whether the impact that the sanctions are having on the Russian economy will change the rational behavior of the leadership," she said.
"At the moment, the Kremlin is acting against the interests of its people."
On Monday, Putin also accused Europe of ignoring the Ukrainian army, which he said was "directly targeting" civilians.
The Ukrainian military "is directly targeting its fire on residential areas" and "unfortunately, many countries, including in Europe, prefer not to notice that," he said on Russian television.
Putin characterized the goal of rebel operations as protecting civilians.
"The goal of the rebel forces is to push back armed forces and artillery so they cannot fire on residential areas," he said.
In recent days Putin has repeatedly called for "substantive" talks between Kiev and representatives of eastern Ukraine to resolve the crisis. He blamed Kiev's leadership on Monday for refusing to enter into direct political talks with the eastern Ukrainian separatists, who he said were pushing government troops away from their current positions.
"The current Kiev leadership does not want to carry out a substantive political dialogue with the east of its country," state news agency ITAR-Tass cited Putin as telling journalists.
Also on Monday, Ukrainian President Petro Poroshenko accused Russia of direct intervention.
"Direct and open aggression has been launched against Ukraine from a neighboring state. This has changed the situation in the zone of conflict in a radical way," he at a military academy in Kiev.
Ukrainian troops have retreated from the Lugansk airport and a nearby village in the east after coming under artillery fire, Kiev's security spokesman said on Monday.
"Ukrainian soldiers received an order and made an organized retreat from the Lugansk airport and Georgiyivka village," spokesman Andriy Lysenko said. "Judging by the precision of the strikes, professional artillery men of the Russian armed forces are the ones firing."
Moscow has denied sending soldiers into Ukraine.
Russian Foreign Minister Sergei Lavrov said on Monday that diplomats at a new round of talks scheduled on Monday on easing the crisis in Ukraine must push for an immediate, unconditional cease-fire between Ukrainian government troops and separatists.
AFP - Reuters