China using more natural gas
China's natural gas consumption is on the rise and large investment in domestic gas production will increase that demand significantly in the future, a new report says.
China's shift from coal to natural gas has led the government to spend more on infrastructure to develop the country's own gas production, which is "likely to underpin a significantly larger role" in the country's total energy consumption, said the Energy Information Administration (EIA), an agency under the US Department of Energy.
"China's natural gas consumption has outstripped domestic supply since 2007, triggering rising imports of both liquefied natural gas (LNG) and pipeline gas," the report issued Monday said. "China's natural gas consumption rose at an average annual rate of 17 percent from 2003 through 2013."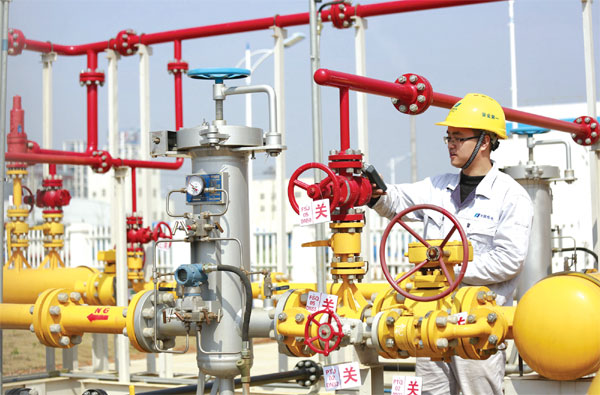 Workers conduct a gas test at an energy station to ensure safe operation at an industrial part in southeast China's Jiangxi province in March. Xinhua
"What the data are showing is that China is relying a bit more heavily on gas. They're basically interested in energy security and that comes from different sources," Candace Dunn, an industry economist at the EIA who wrote the article, told China Daily. "For gas, they see that as more of an opportunity, whether it be trying to produce it domestically and also looking at import opportunities."
In 2012, natural gas only made up 4.9 percent of China's total energy consumption, but the Chinese government said this number will climb to about 8 percent by 2015, and to 10 percent by 2020, the EIA said.
To meet growing demand, the country has more than tripled natural gas production in the last decade, producing 3.8 trillion cubic feet in 2012, with aims to reach 5.5 trillion cubic feet a year by the end of 2015, according to the EIA.
"Most of the anticipated production growth is from large onshore fields in the western and north central regions of China as well as from the offshore deepwater regions in the South China Sea," Dunn said.
China's natural gas imports have increased from 0.6 trillion cubic feet in 2010 to 1.8 trillion cubic feet in 2013, according to EIA data. The majority of its imports come from Qatar and Australia, two top sources of natural gas for Asian countries.
In 2012, China was the third-largest liquefied natural gas importer in the world, outranked by Japan and South Korea.
China has rich reserves of natural gas, but their extraction technologies may not be as sophisticated as those found in the US and it's not easy to get at, according to Dunn.
"The geography there is a bit more complex and challenging. Water resources are another issue. That's just more challenging in that environment. Plus, they have issues with land rights and mineral rights that are different in the US. There are various reasons why it seems to be taking longer there," she said.
Compared to the US, China's consumption of natural gas is small: natural gas consumption made up 4.9 percent of total energy consumption in China, compared to the 27 percent of total energy consumption in the US, but that's to be expected, Dunn said.
"We do have a very sophisticated gas industry here with infrastructure and trading systems," she said. "With China, I think it's fair to say they're working towards building a better system, more pipelines, more infrastructure."
"Overall, they would like to develop their gas industry much more, and they're also looking at their pricing regime and reforming that. That's been a process, just to make their prices more market-oriented," Dunn said.
amyhe@chinadailyusa.com