Xi eyes Winter Games as Nanjing event starts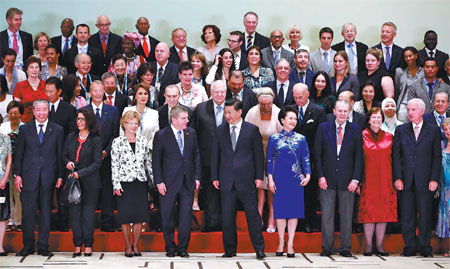 President Xi Jinping (center foreground), International Olympic Committee President Thomas Bach (foreground, fourth from left) and others pose for a group photo at the opening ceremony of the second Summer Youth Olympic Games in Nanjing, Jiangsu province, on Saturday. Feng Yongbin / China Daily
The Youth Olympic Games kicked off in Nanjing, Jiangsu province, on Saturday with President Xi Jinping's gaze set on the country's hopes of hosting another top global sporting event.
Xi underscored the country's commitment to the Olympics to the chief of the International Olympic Committee.
Beijing and nearby Zhangjiakou are bidding to host the 2022 Winter Olympic Games, and Xi told visiting IOC president Thomas Bach on Saturday that China would take the opportunity in Nanjing to contribute more to the Olympic movement.
Bach praised the government's efforts to boost sport and wished Beijing and Zhangjiakou, in Hebei province, luck with their bid.
Observers said a successful Nanjing Games would help China to win support for the bid both within the country and overseas before the full IOC membership selects the host city for the 2022 Winter Games in 2015.
Bach lauded China's preparation work for the Youth Olympics, saying Nanjing set a good example by using sport to promote economic and social development.
The Nanjing Youth Olympics will be a huge success, and will leave a precious legacy in Olympic history, he added.
Bach had told Chinese media earlier that success in Nanjing would benefit Beijing and Zhangjiakou's bid. If the two cities succeed, Beijing will achieve a historic double after hosting the 2008 Summer Olympics.
It was the third meeting between Xi and Bach in the 11 months that the German, a former fencer, has served as IOC president. Both attended Saturday's opening ceremony in Nanjing.
Despite rain, the ceremony offered a warm and spectacular welcome to more than 3,000 athletes from around the world and featured performances inspired by Chinese culture.
More than 60,000 spectators clapped and chanted as fireworks lit up the sky over Nanjing Olympic Sports Center Stadium at the start of the ceremony at 8 pm.
In his meeting with Bach, Xi said the Youth Olympics integrates culture and education with sport, and provides not only an arena where young athletes can compete but also a platform for communication among them.
The Youth Olympics helps promote the Olympic spirit of solidarity, friendship and peace, Xi said.
"Every family is familiar with the (Olympic) motto: faster, higher and stronger," he told Bach.
Bach said the IOC endeavors to promote the Olympic spirit around the globe and sees sport as a tool to enhance world peace and sustainable development.
Ren Hai, a professor of physical education at Beijing Sport University, said the event in Nanjing, which features both competitive sport and youth exchanges, will encourage young people in China to learn social rules and take part in physical exercise.
"Most young people are the only child in their family," Ren said. "Through the Games, which highlight key social values like solidarity and cooperation, they will learn how to get along with their peers."
Contact the writers at zhaoshengnan@chinadaily.com.cn and sunxiaochen@chinadaily.com.cn