Dama face up to creating trendy global statement
Chinese dama, or middle-aged women, may have inspired a global fashion trend.
CR Fashion Book, a magazine created by Carine Roitfeld, former editor-in-chief of Vogue Paris, released a series of photo shoots this month on the "facekini", a popular item of beach attire in China.
The shoots, titled "Masking in the Sun", are based on the masks Chinese women use on the beach to cover their faces from the sun, revealing only the eyes, nose and mouth.
The photographer of the series, Alexandra Utzmann, said the inspiration for it came from dama wearing the masks in Qingdao, Shandong province.
"My sister-in-law, Melanie Huynh, also the stylist of our magazine, was the first one to tell me about these masks worn on Chinese beaches and sent me some pictures," said Utzmann, adding that the facekini had been popular in France in the 1930s, when French women worshiped pale skin.
An article in the magazine said, "While our summer beauty routines are devoted to bronzing, self-tanning and tan-extending, in Asia, beauty-seekers are more likely to center theirs around lightening and brightening."
Chinese Internet users have been making jokes about the facekini catching the fashion world's attention, saying that Chinese dama have again led global fashion and made headlines.
Chinese dama, a term created by The Wall Street Journal, refers to Chinese middle-aged women who rushed to buy gold as an investment in 2013 when the price plunged.
News of the facekini appearing in CR Fashion Book has been among the 10 most popular topics in China on Sina Weibo, the country's Twitter-like service.
In 2012, the facekini made headlines in newspapers and broadcasting organizations in Europe and the United States, including the BBC and The New York Times.
Facekinis are popular in the coastal city of Qingdao, where the majority of wearers are middle-aged women who cherish pale skin.
Media mogul Hung Huang, who runs iLook Magazine, a publication highlighting China's growing fashion industry, said, "It shows that fashion can draw inspiration from anywhere and anyone."
Hugo Yu, deputy editor-in-chief of Harper's Bazaar China, said, "The facekini shoots are to record interesting moments in a fun, creative and ironic way," adding that they are also designed to present differences in aesthetics and lifestyles between East and West.
China has played a role in shaping global fashion trends in recent years.
In 2007, Louis Vuitton adopted the red-white-and-blue bags popular among Chinese migrant workers for its new collection. In 2009, Michael Kors presented colorful fuzzy caps inspired by the Lei Feng cap in China.
Amelie Li, a fashion columnist for Chinese media website Sina.com who has lived in Hong Kong for years, said: "Like the facekini, the red-white-and-blue fabric bags are designed for use, not for beauty. However, these products have been increasingly used by the international fashion world, indicating that China is attracting more global attention."
However, she believes that regardless of fashion trends, Chinese dama will wear the most comfortable clothing.
"The facekini may turn out to be a fashion trend someday," she said.
Contact the writers at luowangshu@chinadaily.com.cn and tuoyannan@chinadaily.com.cn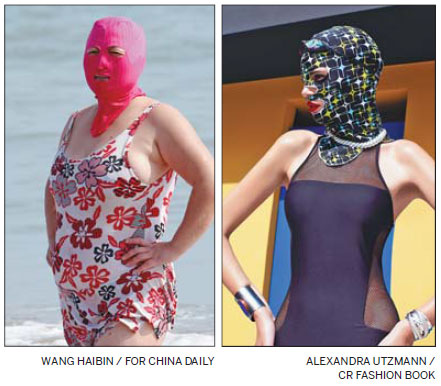 Left: A woman wears a "facekini" in Qingdao, Shandong province. Right: Inspired by Chinese women wearing masks on the beach, a French fashion magazine came up with the design for the "facekini".