Programs protect Tibet's intangible culture
By Liu Xiangrui in Qamdo and Hu Yongqi in Lhasa, Tibet | China Daily USA | Updated: 2014-08-15 12:11




To safeguard the more than 1,000 forms of intangible culture heritage found in the Tibet autonomous region, local authorities conducted a comprehensive survey to record many aspects of the local culture, some of which have almost disappeared.
The regional government also implemented a range of measures including increasing the subsidies paid to inheritors - people who have the knowledge of the culture and its customs passed down to them - to encourage a revival of indigenous culture among the younger generation.
Last year, the central government added eight local art forms in Qamdo prefecture to a list of programs to protect intangible culture in east Tibet, including the Gordro dance and performances on a six-stringed lute-like instrument called a Dzongkha, and specialized techniques such as those used in the extraction of salt. The regional government listed a further 15.
In the past five years, the prefecture has spent 2.6 million yuan ($450,000) promoting the local cultural heritage, according to the Qamdo Administration of Culture.
On June 1, as a way of strengthening the protection of indigenous cultures, the regional government implemented a version of the Law on Intangible Cultural Heritages, which has been tailored to suit conditions on the plateau.
The regulation stipulates that governments at prefecture and county levels must cultivate young talent and provide adequate financial support to preserve traditional art forms, especially those listed as intangible cultural heritages.
Since 2006, more than 3,000 officials in the region have been collecting information about all the listed intangible heritages. To date, they have collected about 100,000 transcripts and made 2,000 recordings of traditional music, dances and techniques, said Ren Shuqiong, deputy director of the Department of Culture of Tibet.
In June, 123 people were accredited as inheritors of intangible culture at the Norbulingka Palace in Lhasa. By the end of May, 120 million yuan had been spent on the protection of intangible culture, with the central government providing 90 million yuan of that amount, Ren said.
Centuries-old traditional ethnic crafts are still thriving in Qamdo's Karma town in Tibet, thanks to the efforts of many senior craftsmen and aid from local government.
For hundreds of years, craftsmen making religious items like the Thangka, bronze Buddha statues, prayer stone carvings, and clothing accessories have clustered in Karma town, where the historically important Karma Monastery is situated.
Karma Monastery, which was the earliest Buddhist monastery in eastern Tibet, has remained influential since it was built almost 850 years ago. Craftsmen from Nepal, India, Lhasa and other parts of China were called in to work on the monastery.
Many craftsmen and their descendants settled down and gradually formed the unique crafts enclave of Karma town, which is located 130 kilometers away from the county town of Qamdo. Among the town's fewer than 1,200 adults, there are 140 silversmiths, 72 Thangka painters, 98 stone carvers and 18 carpenters, who are scattered in nine villages.
The craft products made in Karma have been widely recognized throughout history in all Tibetan habitats. In 2002, Karma was named as a Town for Ethnic and Folk Art by the government of the Tibet autonomous region.
In recent years, the local government has taken a series of measures and worked with experienced craftsmen to protect and promote the folk arts in Karma.
For example, Pyingtsuo Thondrup, 51, who is recognized as a Karma Karchi-style Thangka art inheritor by the Tibet autonomous region, has been invited to teach Thangka making in Qamdo's occupational school since 2011. He has taught more than 200 students there. Some students who become really interested in Thangka can continue to study with him at his workshop.
Gesong Tsering, 28, is one of them. He has studied with Pyingtsuo since 2010.
"Once I studied Thangka with him, I know it's something I'd love all my life," said Gesong. "I wish I can also have my own workshop and apprentices in the future."
In the past three years, Pyingtsuo has taken more than 20 apprentices like Gesong into his workshop. Some of them are from neighboring Qinghai and Sichuan provinces.
It takes at least five years before they are qualified to work on their own. "It all depends on their aptitude and how hard they learn," explained Pyingtsuo.
To better preserve the craft, the Karma Karchi-style Thangka was listed as a national cultural heritage.
Meanwhile, the local government has helped some traditional crafts adjust to market demands and absorb modern technologies for higher productivity.
For example, modern quenching and calcinations methods, as well as polishing and welding machines, are introduced to the bronze statue forging workshops in Litu village.
Most of the village's 16 households are in the business of making bronze Buddha statues or clothing accessories. The bronze-statue making in Karma has a long history and is listed as an autonomous region-level cultural heritage.
The statues are now sold not only within Qamdo, but also Nagqu prefecture in Tibet and neighboring Qinghai province.
Forging Buddha statues has been a family business of Thondrup Norbu for many generations. Thondrup began learning the craft at 11 and now the 52-year-old has been recognized as an inheritor of the craft on the autonomous region level.
"The new technologies have made our work easier," said Thondrup. However, he said that the machines will never take place of all human handwork as it takes long practice and deep understanding of the craftsmen to complete a large and delicate statue.
Thondrup and his three sons, all working at their statue-forging workshop, bring in about 400,000 yuan a year.
Meanwhile, the local government has organized some cooperative workshops to replace separate household workshops. The measure has improved the efficiency and increased the workers' incomes.
In recent years, the county has sought to bring extra economic benefits to the locals by integrating the traditional ethnic crafts with tourism.
According to its plan, the folk-art workshops and products will become a core part of the area's tourist attractions in the future, according to Zhang Qing, chief of the cultural department of Qamdo.
Contact the writers at liuxiangrui@chinadaily.com.cn and huyongqi@chinadaily.com.cn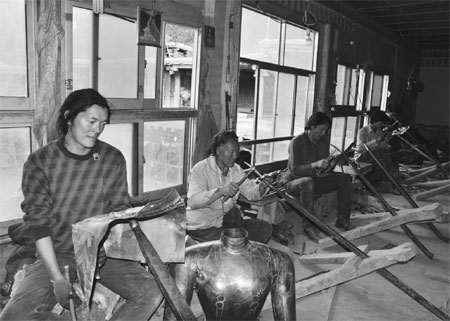 Bronze statue workshop in Litu village of Karma town in Qamdo prefecture, Tibet autonomous region. Liu Xiangrui / China Daily