Youth Olympic Games athletes urged to focus on education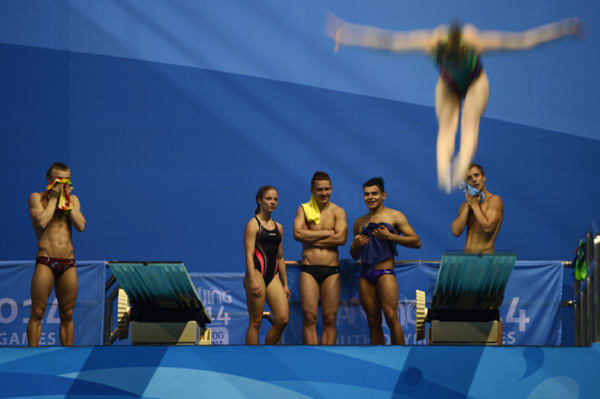 An athlete practices diving at the Nanjing Olympic Sports Center on Thursday ahead of the second summer Youth Olympic Games. Wei Xiaohao / China Daily
By offering opportunities to share experience and learn skills, the education programs at the Youth Olympic Games in Nanjing, Jiangsu province, are meant to inspire athletes to explore more possibilities in life beyond sports.
Although winning medals allows the young athletes to shine in major sporting events, receiving a good education will guarantee them a smooth transition from athletic highs to post-sports success, said officials and young Olympians at the Nanjing Youth Olympic Games.
Inspired by the Youth Olympic Games' spirit of sharing and learning, the International Olympic Committee and Nanjing organizing committee are highlighting educational programs that will be provided during the event to motivate young athletes to develop skills and interests other than sports from an early age.
"At the Youth Olympic Games, we want the athletes to follow what we bring to them in the educational realm," Gilbert Felli, IOC executive director, said after the Youth Olympic Village opening ceremony on Tuesday.
"We believe that the career of an athlete is important, so they should have all the necessary information to perform well. We also know that, at this age, there are a lot of dropouts.
"A lot of athletes stop their (athletic) careers for different reasons, but it's important for them to know there are other things in life. Even if you can't be a top athlete, everything is not finished. You can still be a judge, a coach or a referee."
According to the Nanjing Youth Olympic Games Organizing Committee, the Culture and Education Program will include 20 types of activities based on such themes as skills development, healthy lifestyle, social responsibility and expression.
Many of the activities are designed to help athletes unleash their nonathletic potential. For example, at the Chats with Champions corner, young athletes have the opportunity to talk with senior Olympians about their post-sports endeavors.
At the Healthy Cooking Workshop, athletes will be offered training in cooking and nutrition, while the Athlete Career Program booth will provide time-management skills and guidance on how to balance studies and training.
Jiao Yong, director of the organizing committee's Culture and Education Program, was confident that the activities will teach athletes about leadership and social skills, which will offer benefits for the rest of the young athletes' lives.
To guarantee enough time for athletes to take part in culture and education activities, the IOC is requiring single-sport federations to take two days off on their event schedules and has asked athletes to stay in Nanjing until the end of the games.
Qin Jinjing, an 18-year-old Chinese badminton player, hailed the Youth Olympic Games as a classroom for learning and making friends.
"The atmosphere here is more fun and relaxed than other major events," she said. "We have time to explore what is offered in the village and socialize with teenagers from other countries."
sunxiaochen@chinadaily.com.cn