Mercedes targeted in antitrust investigation
Nine inspectors make surprise visit to firm's Shanghai premises, report says
China's investigations into foreign companies spread to the auto sector on Tuesday, with German giant Mercedes-Benz saying it is helping authorities after reports that anti-monopoly investigators raided its Shanghai office.
Beijing Mercedes-Benz Sales Service Co confirmed that it is involved in an antitrust investigation launched by the National Development and Reform Commission.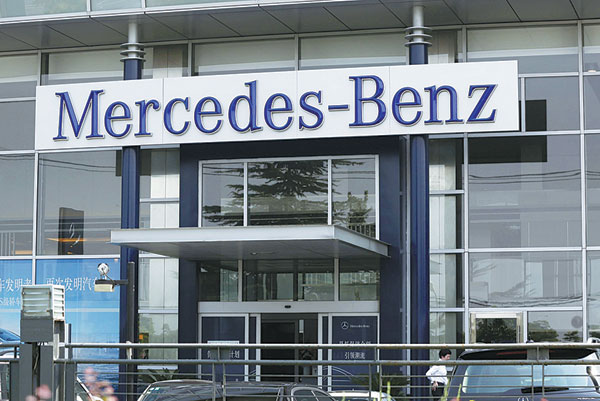 Mercedes-Benz's Shanghai office was paid a surprise visit by antitrust investigators from the National Development and Reform Commission on Monday, media reports say. Aly Song / Reuters
"We're actively assisting the investigation," the company said without elaborating.
Jiemian, a new-media platform of Shanghai United Media Group, reported on Tuesday that nine investigators from the commission made a surprise visit to a Mercedes-Benz premises in Shanghai on Monday, questioned employees and checked computers.
The commission, one of three government antitrust agencies, is responsible for regulating pricing. It did not comment on the report on Tuesday.
Insiders said the Mercedes investigation may target the company's controls on regulating the lowest price for both completed models and parts to dealers.
If a company manipulates prices by controlling production, distribution and sales of a product, it violates the Anti-Monopoly Law.
Mercedes-Benz is the first company in the automotive industry confirmed to be under a government antitrust investigation after the Ministry of Commerce warned of illegal business actions in the sector several months ago.
China National Radio reported on Tuesday that German manufacturer Audi is being investigated by the Hubei Commodity Price Bureau and US maker Chrysler by the Shanghai Development and Reform Commission.
The report said investigations had found that the two companies took over the pricing rights for parts and maintenance services from dealerships and they will face punishment.
Several automakers in the luxury sector have announced price cuts in the past two weeks.
The latest is Chrysler's China unit, which on Tuesday announced 20 percent price cuts for 145 spare parts, a 650,000 yuan ($105,000) reduction for its Jeep Grand Cherokee SRT8 model and a 450,000 yuan cut for its 5.7L Grand Cherokee.
On Sunday, Daimler said it will slash prices for more than 10,000 spare parts for its Mercedes-Benz cars in China from Sept 1. On Friday, Audi cut prices of spare parts for locally produced models by up to 38 percent.
Luo Lei, deputy secretary-general of the China Automobile Dealers Association, said, "Monopoly actions are common in the automobile sector, especially in the luxury sector, which is growing much faster than the overall industry."
Scott Yu, an antitrust lawyer and partner at Zhong Lun Law Firm in Beijing, said the commission has entrusted the Automobile Dealers Association with preliminary investigations into resale prices, which suggests that the current antitrust probe into the auto industry may focus on unreasonably high prices.
He forecast wider price reductions "very soon", especially for spare parts, as the decadelong guideline on automobile brand sales and management will soon be abolished, to introduce more competition.
In the past two years, China has launched antitrust investigations in various sectors, including the pharmaceutical and baby milk powder industries.
Last week, a Chinese government agency said it is investigating US software giant Microsoft for allegedly operating a monopoly in its market.
US chip maker Qualcomm is also under investigation in China's mobile phone market.
Sebastien Evrard, antitrust partner at law firm Jones Day, said these investigations show that China is stepping up efforts to enforce the Anti-Monopoly Law, which came into force six years ago.
Contact the writers at lifangfang@chinadaily.com.cn and zhaoyinan@chinadaily.com.cn.
Li Jiabao and AFP contributed to this story.