Post-'90 tourists flocking to Tibet
Every July and August, Pemashung, the sales manager of the Tibet Postal Hotel, sees many tourists from different cities gathering in Lhasa, capital of the Tibet autonomous region. That period, the best for sightseeing, is the peak season for Tibet's tourism industry.
Pemashung has noticed that the so-called "post-'90" generation -people born in the 1990s - has become the main force of this army of tourists.
"There is a sharp growth in the number of young visitors since July. More than 50 percent of the tourists are post-'90 generation," said Pemashung. "They want to experience Tibetan culture."
Lhasa has replaced Lijiang in Yunnan province as the most popular tourist destination for the post-'90 generation during summer vacation.
Qunar.com, a leading travel search engine, surveyed young travelers born after 1990, who account for the majority of the country's tourists during July and August. The survey found that Lhasa ranked first as a travel destination among those travelers.
Gao Xing, general manager of the vacation department at Qunar, said Lijiang had been the most popular choice among the post-'90 generation for a long time. This is the first time that Lhasa has surpassed Lijiang.
"With the development of transportation and the tourism industry, visiting Tibet is getting much easier," said Gao. "Besides, some legendary tour stories of young travelers helped to promote Tibet among young people. They think it is challenging, they think it is fun, and they think it is something they have to do when they are still young."
The majority of the post-'90 generation are still students. And this generation has its own tour style.
"Except for the rich kids who like fancy hotels and first-class flights, most post-'90s tourists choose to ride to Lhasa as part of a big package," said Xu Bin, founder of haixizang.com, a website that provides information on travel to Tibet.
Pemashung echoed this and said most of these tourists spent very little on accommodations. "They will stay in small family hotels, which only cost 30 to 50 yuan for a bed, and have dinners at cheap restaurants."
Li Xiaohong, a merchant from a souvenir market at Lhasa, said many of these young travelers will choose to take part-time jobs and even conduct small business affairs during their sightseeing to cover the expenses.
"They tend to stay for a long time, like one or two months," said Li. "They will buy a large amount of cheap souvenirs and sell them at a busy crossroads at Lhasa or even online."
Contact the writers at palden_nyima@chinadaily.com.cn and suzhou@chinadaily.com.cn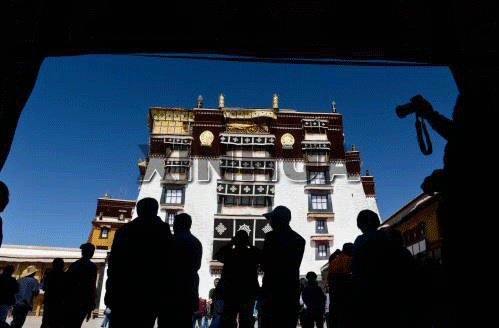 Tourists visit the Potala Palace in Lhasa, the Tibet autonomous region. The region has entered the peak tourism season. Pubu Tashi / Xinhua