China, Venezuela secure $5 billion in financial deals
Agreements include credit line, loan to assist gold and copper exploration
Beijing and Caracas signed more than $5 billion in financial agreements on Monday to support the South American country's economic development as President Xi Jinping concluded his first visit to the country.
The agreements include $4 billion in credit to Venezuela and a $690 million development loan for exploration for gold and copper.
Reuters reported that the credit line will be repaid in oil shipments.
Gao Jian, researcher at the Sublime China Information Co Ltd, a commodity market information service organization, said Venezuela is China's major crude oil supplier in South America and that the agreement is part of China's strategy to diversify its crude oil imports.
"The repaid amount is only a fraction compared with our daily crude import volume, but it is important for China's energy security as it tries to be comprehensive and maneuverable," he said.
In May, South America became the fourth-largest market for crude imports after the Middle East, Africa and northern Asia, accounting for 10 percent of the total amount. Venezuela ships more than half of the continent's oil, according to the SCI's research.
Oil is China's second-largest energy source and the nation imports 57.4 percent of the crude oil it needs.
Gao said China's reliance on oil will only become greater and predicted that the world's largest energy consumer will likely import 60 percent of its crude oil needed this year.
The agreements are among 38 deals reached as the two countries concluded a high-level meeting that guided bilateral cooperation.
The 13th meeting of the China-Venezuela High-Level Joint Commission saw company executives and government officials sign cooperation documents in energy and mining, finance, infrastructure construction, agriculture, high-tech and other sectors.
Among the notable agreements is a cooperation deal on a satellite project in Venezuela. China has launched two satellites for Venezuela since 2008 to help the country in areas such as television services, city planning, resource surveys, environmental protection and disaster relief.
Under the latest agreement, Venezuelan scientists will participate in the design and testing process, which analysts said marks a new stage in China-Venezuela joint research and development.
Xi said at the closing ceremony that the cooperation agreements signed on Monday are like concrete steps that build the development path of the two sides' comprehensive strategic partnership.
Venezuelan President Nicolas Maduro said about $45 billion in financial agreements with China have supported more than 400 projects in Venezuela in such sectors as industry, agriculture, social development, water transportation and aviation.
"We know that cooperation with China has not brought us debt, but greater development," Maduro said through a translator.
Contact the writer at wujiao@chinadaily.com.cn
Lyu Chang and Li Jiabao contributed to this story.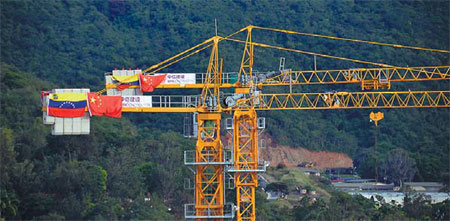 Flags of China and Venezuela are draped on cranes at a construction site of China International Trust and Investment Corp in Caracas. The project will provide low-cost housing for many residents of the city. Xu Ye / Xinhua