Israel downs 3 Hamas rockets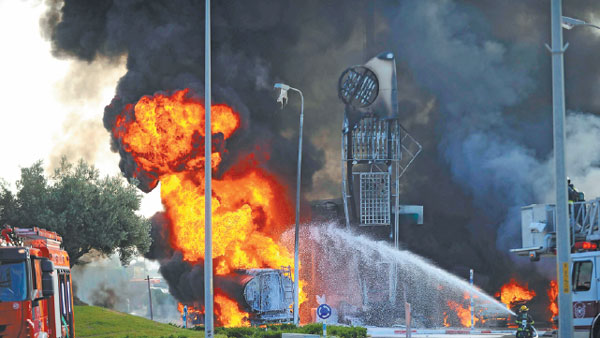 Israeli firefighters extinguish a fire that broke out after a rocket hit a gas station in the southern Israeli city of Ashdod on Friday. One rocket hit the gas station, causing a huge blaze, and at least three people were seriously wounded. Avi Roccah / Reuters
Military bombs over 1,000 Gaza targets, in which 100 people killed
Three Gaza rockets were shot down over the Tel Aviv area on Friday as Hamas militants claimed they had fired M75 missiles at the Israeli city's airport.
All three were shot down by the Iron Dome anti-missile system, the Israeli army said.
The rocket fire was claimed by Hamas militants in Gaza who said they had launched "four M75 missiles at Ben Gurion Airport" just outside Tel Aviv.
A spokesman for Israel's Airport Authority told AFP that Ben Gurion Airport had been closed for "nine minutes" during the air raid, but then resumed operations as normal.
Hamas' armed wing, the Ezzedine al-Qassam Brigades, meanwhile warned airlines against using Israeli airports.
"We are sending a message to all foreign airlines operating flights into the Zionist entity, asking them to stop flying into the entity because of the dangers surrounding all the airports due to the ongoing war," it said in a statement.
On Friday, Gaza rocket fire also struck a gas station and set it ablaze in southern Israel, seriously wounding one person as rocket fire also came from Lebanon for the first time in the four-day offensive.
The attack on the gas station in Ashdod looked to be the most serious attack in Israel in the four days of fighting that has seen Israel deliver a heavy blow to Gaza's Hamas leaders. Its military has carried out more than 1,000 strikes against Gaza targets that have killed 100 people, including dozens of civilians.
The explosion in Ashdod sent plumes of smoke high into the air, leaving a trail of charred vehicles in its wake. Israeli health officials said the blast wounded three people, including one in serious condition.
In northern Israel, rocket fire struck near the Lebanese border, and the military responded with artillery fire toward the source in southern Lebanon, military spokesman Peter Lerner said.
The Lebanese military said three rockets were fired toward Israel around 6 am and the Israelis retaliated by firing about 25 artillery shells on the area.
Lebanon's state-run National News Agency said that one of those suspected of firing the rockets was wounded and rushed to a hospital. The Lebanese military said troops found two rocket launchers and dismantled them.
A Lebanon-based al-Qaida-linked group, the Battalions of Ziad Jarrah, claimed responsibility in the past for similar rocket attacks on Israel.
Gaza militants already have fired more than 550 rockets against Israel in the four-day offensive. Israel's "Iron Dome" defense system has intercepted most of those aimed at major cities but some have slipped through.
Frequent air raid sirens sounded across Israel on Friday, including for the first time in the northern city of Haifa. Israel has shot down at least 110 incoming rockets thus far.
Israel launched the Gaza offensive to stop incessant rocket fire that erupted after three Israeli teenagers were kidnapped and killed in the West Bank and a Palestinian teenager was abducted and burned to death in an apparent reprisal attack.
The military says it has hit more than 1,100 targets already, mostly what it identified as rocket-launching sites, bombarding the territory on average every five minutes.
In Gaza, an Israeli airstrike on Friday hit the home of a well-known Islamic Jihad leader. Gaza health officials said strikes overnight killed eight people, raising the death toll to 100. The strikes have wounded some 670, the officials said.