Kerry seeks to broker end to Afghan election crisis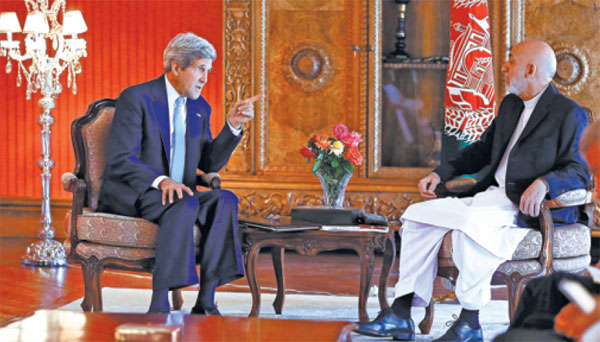 US Secretary of State John Kerry (left) and Afghanistan President Hamid Karzai meet at the presidential palace in Kabul on Friday. Jim Bourg / Agence France-Presse
US Secretary of State John Kerry sought on Friday to mediate an end to the political crisis in Afghanistan, warning that a bitter dispute over presidential polls threatened the country's future.
As the top US diplomat met separately with the rival candidates, Ashraf Ghani and Abdullah Abdullah, Kerry stressed that results released Monday showing Ghani in the lead were "preliminary".
"They are neither authoritative nor final, and no one should be stating a victory at this point in time," Kerry said, as he held back-to-back meetings in the heavily-fortified US embassy.
"We want a unified, stable, democratic Afghanistan. It is important that whoever is president is recognized by the people as having become president through a legitimate process," he said.
The next government should be one that "can unify" the people and "lead in the future", Kerry said.
Despite Monday's announcement, Abdullah, who has already once lost a presidential bid in controversial circumstances, has declared himself the true winner, saying massive fraud robbed him of victory in the June 14 runoff vote.
In a swift boost for Kerry's diplomacy, Ghani threw his backing behind US calls for a wide audit of the elections.
"Our commitment is to ensure that the election process enjoys the integrity and the legitimacy of the people of Afghanistan and the world," Ghani told reporters as he met with Kerry.
"Therefore, we believe in the most intensive and extensive audit possible to restore faith."
A statement from the office of outgoing President Hamid Karzai said UN officials had put forward a plan late on Thursday to audit some 8,000 ballot boxes, representing 43 percent of the total votes - or around 3.5 million votes.
Ghani said he and his supporters were committed to "an inclusive government. A government that could represent all of Afghans, and serve every Afghan citizen in the manner that every Afghan deserves according to the constitution".