Tax break for alternative-fuel cars
The government's latest policy to support alternative-fuel vehicles - a waiver of the 10 percent purchase tax - will do much to accelerate individual adoption of those cars, said analysts.
They also said that a rapid buildout of public and private charging facilities is key to the future of new-energy vehicles in China.
The State Council on Wednesday announced that all alternative-fuel vehicles, whether local or imported, will be exempted from the purchase tax from September until the end of 2017.
The vehicles that qualify include pure electric cars, plug-in hybrids and fuel cell cars.
Analysts from Hongyuan Securities Co Ltd said that the tax exemption will effectively reduce the purchase price of new-energy vehicles and help accelerate sales. That is important, since these cars are usually more expensive than traditional internal-combustion engine automobiles.
Take the Tesla Model S as an example. After September, Chinese consumers will be exempted from paying the 62,720 yuan ($10,162) purchase tax for the electric car with its price tag of 734,000 yuan.
The policy is especially beneficial for high-end electric vehicle models such as the Tesla and the BMW i8, said the analysts.
The move followed an agreement between China and Germany on Tuesday stipulating that the electric vehicles in both countries will adopt the same charging standards and that both nations will jointly improve the development of charging infrastructure.
Also on Thursday, the Beijing municipal government said that the capital will soon announce rules mandating that at least 18 percent of the parking spaces in new residential areas be equipped with charging facilities.
"The development of a charging infrastructure is very important to improve the use of electric vehicles among individual consumers," said Science and Technology Minister Wan Gang on Thursday. "It's convenient for everyone who wants to drive an electric car."
He also praised the purchase tax waiver and said: "There will be more encouraging policies to come in the next few months, as the cabinet attaches great importance to the development of electric vehicles, which not only save energy but also contribute to the environment."
According to Wan, a range of new policies are under discussion.
Dong Yang, secretary-general of the China Association of Automobile Manufacturers, told the organization's routine news conference on Wednesday that the State Council is expected to announce policies to stimulate alternative-fuel vehicle development.
Statistics from CAAM show that in the first half of this year, Chinese manufacturers produced 20,692 new-energy vehicles and sold 20,477, up 2.3 times and 2.2 times, respectively, from a year earlier.
First-half output and sales also surpassed the full-year figures for 2013, CAAM said.
RENAULT PLANS LOCAL ELECTRIC VEHICLE MANUFACTURE
French automaker Renault SA is planning to make electric cars in China to take advantage of the nation's favorable policies for clean energy vehicles, a top company official said on Thursday.
"We are in talks with Dongfeng Motor Corp, our local partner, for making new-energy vehicles in China through our joint venture," said Jerome Stoll, Renault's chief performance officer and executive vice-president for sales and marketing.
Gilles Normand, senior vice-president of Renault and president for Asia Pacific said, "To have a competitive price and considering that the government subsidies only go to locally produced new-energy vehicles, Renault's electric car needs to be made in China. In addition, it will also help meet the local emission requirements."
Without disclosing further details about models or time schedule, Stoll told China Daily that the two sides are also discussing the business model for the locally produced Renault electric vehicles.
According to Stoll, electric vehicles will take a larger and more important part in the automobile industry in the coming years. "Renault has about 40 percent of the market share in the European electric vehicle market, and we expect it to double by the end of this year."
He said that the Chinese government's latest policy on encouraging the development of charging infrastructure will boost the use of electric vehicles, and Renault will actively participate in the efforts.
On Tuesday, China and Germany signed agreements to use the same charging standard for electric vehicles produced in the two countries, aiming to further push green vehicle usage among individual customers.
"It is good news for Renault, as we sell many electric vehicles in German markets, and they use the same charging plugs that we make. This makes Renault one of the key drivers of the agreed charging standard," said Stoll.
During the first six months of the year, Renault's vehicle sales in China surged 44 percent as the local economy maintained a fast growth pace, Stoll said. "Though the increase is high, the total volume is still low here, and we account for just 4 percent of the imported vehicle segment."
However, he said that it is time for Renault to "build up" the market and brand awareness in China, as the country figures prominently in Renault's mid-term growth plan.
"We are happy to see locally-produced products rolling out of our new joint venture plant in Wuhan," said Stoll.
The agreement for the 7.76-billion yuan ($1.25 billion) plant in Wuhan was signed last year, and expectations are that it will start making sport-utility vehicles in 2016.
lifangfang@chinadaily.com.cn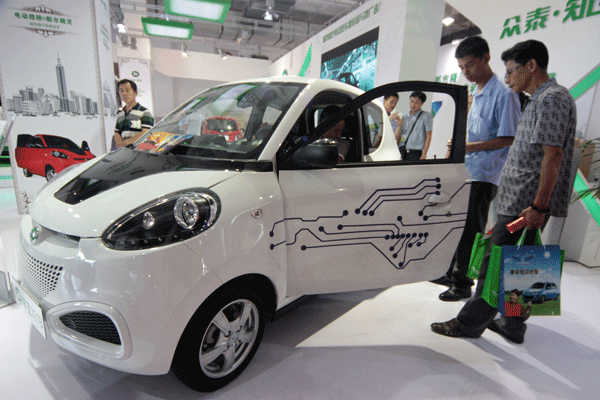 A mini electric car attracts visitors at an international exhibition of new-energy vehicles in Beijing. Both locally produced and imported new energy vehicles will be exempted from a 10 percent purchase tax starting in September in China, in a bid to save energy and reduce emissions. Wu Changqing / For China Daily