DPRK to send cheering squad to Asian Games
The Democratic People's Republic of Korea said on Monday it would send a cheerleading squad to the Asian Games in the Republic of Korea, in an apparent goodwill gesture following a recent series of DPRK missile tests.
A government statement carried by the DPRK's official KCNA news agency said sending the cheering delegation to the Asiad, which will be held from Sept 19 to Oct 4 in Incheon, will "help melt frozen north-south relations".
The statement repeated the DRPK's demand that the DPRK and the ROK end mutual hostility and slandering.
It also called for the ROK to scrap military drills with foreign forces, an apparent reference to the ROK's regular training with the United States. The DPRK calls such drills an invasion rehearsal.
The DRPK has previously proposed similar demands that it said would reduce tensions, but the ROK has rejected them, saying that Pyongyang must first take steps toward nuclear disarmament.
The ROK's Unification Ministry said on Monday that the DPRK must not repeat "unreasonable" demands. Spokesman Kim Eui-do said the government supports the successful hosting of the Asian Games and will discuss the DPRK's plans to send athletes and the cheeringleading team with organizers of the games.
The ministry said preparations will be made to host the DPRK's athletes and the cheeringleading squad.
The DPRK has sent such squads to the ROK before, most recently for the 2005 Asian Athletics Championships in Incheon, when one of the cheerleaders was Ri Sol-ju, now the wife of DPRK leader Kim Jong-un.
Pyongyang announced in May that it had decided to send a team to the Asiad, despite inter-Korean tensions over joint ROK-US military exercises.
The DPRK boycotted the 1986 Asian Games and the 1988 Summer Olympics, both in Seoul, but attended the 2002 Asian Games in Busan, the 2003 University Games in Daegu, and the 2005 Asian Athletics Championships in Incheon.
In all three events, the DPRK dispatched cheering squads, mostly composed of young women - called an "army of beauties" in the ROK - that often received more attention than the country's athletes.
Outside analysts say the DPRK seeks to improve ties with the ROK and other countries to help attract foreign investment and aid to revive its economy.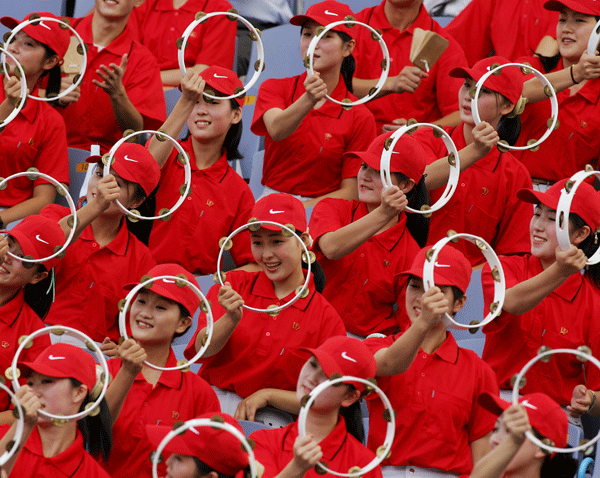 A DPRK cheering squad performs on the first day of the Asian Athletics Championships in Incheon, ROK, on Sept 1, 2005. The DPRK said on Monday it would send a cheerleading squad to the Asian Games in the ROK this September. Bobby Yip / Reuters