Ukraine shakes up top brass to crush rebels
Ukraine shook up its beleaguered army's top brass as clashes raged in the separatist east despite mounting US and German pressure on Russia to force the rebels to halt fire.
President Petro Poroshenko on Thursday named a new defense minister and top general as his forces reported pressing on with an offensive to oust insurgents from the country's industrial east.
New Defense Minister Valeriy Geletey immediately pledged to deliver a knockout blow to the rebels after Poroshenko this week ditched a 10-day truce.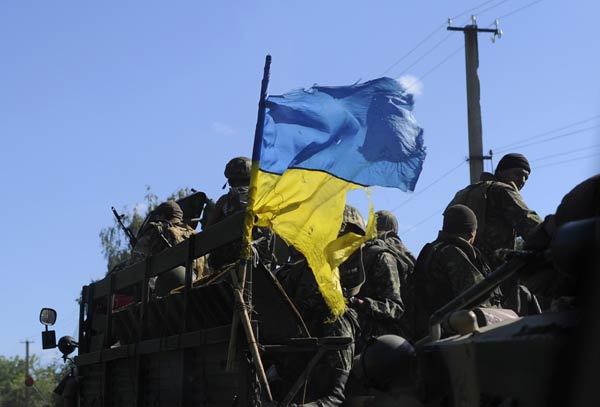 Ukrainian soldiers drive a military vehicle with a torn national flag at a checkpoint near Sloviansk in the eastern region on Wednesday. Andrew Kravchenko/Reuters
"I am sure that Ukraine will win and believe me that there will be a victory parade," the 46-year-old former police commander told lawmakers.
Ukrainian troops have stepped up their campaign since a shaky cease-fire failed to stem 11 weeks of violence that have claimed more than 460 lives.
But the poorly trained and ill-equipped force is being heavily tested by highly organized militias that both Kiev and the West accuse the Kremlin of arming and funding - a charge Russian President Vladimir Putin flatly denies.
The latest battles came despite a flurry of diplomacy aimed at convincing the warring sides to agree to a fresh round of indirect talks to hammer out a new cease-fire.
French President Francois Hollande and German Chancellor Angela Merkel have asked Putin by phone to help organize another meeting of the so-called Contact Group.
Merkel and US President Barack Obama also spoke on the phone and urged the Russian leader of "the importance of a rapid cease-fire observed by both sides".
"Russia must first contribute by ensuring that the separatists in eastern Ukraine uphold the cease-fire," the German account of the call said.
The White House said Obama and Merkel agreed that if Russia did not de-escalate the situation in eastern Ukraine in "short order", Washington and Europe would take further "coordinated" steps toward sanctions.