Israel finds missing teens' bodies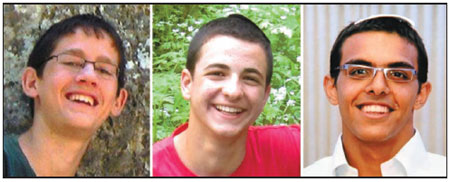 Three Israeli seminary students whose bodies were found in the West Bank on Monday. From left to right: Naftali Fraenkel, 16, Gil-Ad Shaer,16, and Eyal Yifrah,19.The students went missing on June 12. Reuters
Jerusalem vows to make Hamas pay, hits Gaza targets with airstrikes
Israel bombed dozens of sites in the Gaza Strip on Tuesday, striking at Hamas after finding the bodies of three missing teenagers whose abduction and killing it blames on the Palestinian Islamist group.
Israel's security cabinet, which held an emergency session late on Monday and was due to meet again on Tuesday, was split on the scope of any further action in the coastal enclave or in the occupied West Bank, officials said.
The United States and Egypt urged restraint.
Israeli Prime Minister Benjamin Netanyahu promised Hamas would pay after the discovery of the three Jewish seminary students' bodies under rocks near the West Bank city of Hebron on Monday.
The teenagers had gone missing on June 12 while returning from school in the West Bank, with Israeli authorities immediately claiming they had been kidnapped by Hamas.
The Palestinian group has not claimed responsibility for the alleged kidnapping, insisting that Israel is manipulating events in order to destroy its recent accord with Palestinian President Mahmoud Abbas' Fatah movement.
The funerals of Gil-Ad Shaer and Naftali Fraenkel, both 16, and Eyal Yifrah, 19, were due to take place later on Tuesday in the Israeli city of Modi'in, where they were to be buried side-by-side.
"Recently, the people of Israel went through a great trauma," said Shirel Shaar, Gil-Ad's younger sister. "We are living as if we are in a movie, whose ending is as bad as can be," she said. "I don't have a brother anymore."
"We are burying a child today, a child who could have been the child of any one of us," said Finance Minister Yair Lapid. "Therefore he is indeed the child of each and every one of us."
'Moderate' response
Israel's military said aircraft attacked 34 sites on Tuesday, mostly belonging to Hamas, though its statement did not link the strikes to the abductions. Palestinian medics said at least four people were wounded in the strikes but no deaths were reported.
The military cited 18 Palestinian rockets launched against Israel from Gaza in the past two days.
At the security cabinet meeting, the army proposed "considered and moderate actions" against militants in the West Bank, officials said.
But the cabinet did not agree on a future course of action at that session, officials added.
US President Barack Obama condemned the killings of the three teenagers but warned against actions that could further "destabilize" the situation.
Israel has named two Palestinian men as prime suspects in the kidnapping case. Marwan Qawasmeh and Amer Abu Eishe are said to be in hiding, but Israel blew up their family homes on Tuesday as a punishment.
In Gaza, Hamas spokesman Sami Abu Zuhri warned Israel against going too far in its attacks on Palestinians.
"The response of the resistance has been limited, and Netanyahu must not test Hamas's patience," said Abu Zuhri.
Hundreds arrested
In the hours after the teens' disappearance, Israel launched a vast military operation in the West bank, with 419 Palestinians arrested, including 276 Hamas members.
While Israel said the operation was primarily amanhunt for the teens, it also took the opportunity to weaken Hamas through targeted arrests.
Netanyahu seized on the abductions to demand that Abbas annul a reconciliation deal he reached with Hamas, his longtime rival, inApril that led to a unity Palestinian government on June 2. Ten days later, the Israeli teenagers went missing.
Five Palestinians have been killed in the Israeli military operation, including two teenage boys who were shot dead by Israeli troops. On June 20, 15-year-old Mohammed Dudin was killed by a bullet wound to the chest.
On Tuesday, another teenager, 18-year-old Yusuf Abu Zagher, was shot dead. The Israeli army said he was a Hamas operative who had been about to hurl an explosive device at troops. Palestinian eyewitnesses described him as an innocent bystander.
An Arab diplomat familiar with Egyptian mediation between Israel and the Palestinians said that Cairo, echoing Washington, expected the Netanyahu government to tread carefully in its military response.
"I don't believe Israel is ready, just yet, to change the statusquo," he told Reuters on condition of anonymity. "It can punish those who did the crime, but should not get out of control with civilians who had nothing to do with the crime."
AFP - REUTERS - AP