Hainan's secret to top-flight service: it's all in the details
Lin, a teacher from China's northeastern city of Shenyang, can now visit her daughter more often thanks to Hainan Airlines' nonstop service between Beijing and Boston.
"This new service is really providing a great convenience for me and many Chinese parents whose children are studying in Boston," said Lin as she found her seat on Flight 481 - the airline's inaugural service launched last Friday.
"It was too much of a hassle before," she said, mentioning one incident where she and a group of Chinese parents were delayed in Newark airport for their connecting flights to Boston. "Most parents don't speak English, as you can imagine, so it was troublesome to be in that kind of situation."
Lin's concern reflects the feelings of many Chinese parents who send their kids to study in Boston, Massachusetts' capital that has more than 100 universities including Harvard and MIT. Chinese students, more than 230,000 in number, topped the list of foreign students studying in the US last year, according to the Institute of International Education. Boston was among the cities that saw a 10 percent increase in Chinese enrollment last year.
The increase in Chinese students and people-to-people exchanges between Boston and China was one of the reasons why Hainan started the direct route.
"The new service represents a gateway for Hainan Airlines on the east coast in our current services in the US besides Seattle and Chicago," said Xie Haoming, president of Hainan Airlines. "More routes between other US and Chinese cities are in the works."
Xie and a few of his colleagues were on the inaugural flight, a Boeing 787 Dreamliner, to attend a celebration ceremony at Boston Logan International Airport. He called the new service a "milestone" in Hainan Airlines' history.
Trained as an aircraft technician, Xie will mark his 20th anniversary with the company next year. "It's a unique company where staff benefits are always a high priority," said Xie.
Among the crew was Yu Chaojie, the lead pilot of the inaugural flight and general manager of flight operations at Hainan Airlines, where he oversees nearly 3,000 pilots and trainee pilots.
"It's a place that granted me a dream," said Yu who has worked at Hainan Airlines for 12 years.
Tian Wenbo, cabin manager for the flight, said the staff's dedication to serving their passengers in the best way they can is motivated by how the company takes care of them. "We take care of the passengers the way we are taken care of by the company," said Tian.
Founded in 1993, Hainan Airlines has more than 130 Boeing and Airbus aircrafts with 600 domestic routes throughout China and international services to Europe, Russia, Southeast Asia and North America, linking some 100 cities worldwide.
As the fourth largest airline in China, Hainan Airlines has been named "Best Airline in China" by Global Traveler magazine and was awarded a "Five-Star Airline" title by SKYTRAX, a global airline rating agency.
Despite the competition in both domestic and North America markets, Hainan Airlines believes that attention to detail is the key to keeping and gaining more customers.
"We have to be as much detail-oriented as we can to keep up our outstanding service for our passengers," said Xie, referring to everything in their service from menu design to the creative production of a Peking opera version of the safety video.
Lin, who scheduled her visit to her daughter on Hainan Airlines' inaugural Beijing-to-Boston flight, said the airline's service made her a regular passenger. "They care about details," she said. "The flight attendant asked me if I needed a wakeup call for when the food would be served. This never happened to me before with any other airline."
Two rows behind Lin was Mario Greco, a marketing director with Alcoa who was returning from China on a business trip. "Convenience is what I'm looking for," said Greco, who lives in Pittsburg.
The Boston-Beijing service offered one more option for Greco when he travels to China as there is no direct flight between Pittsburg and China.
"It's been a pleasant experience," said Greco as he was getting ready to try on the pajamas offered by the airline. "They are very thoughtful."
Contact the writer at yuweizhang@chinadailyusa.com.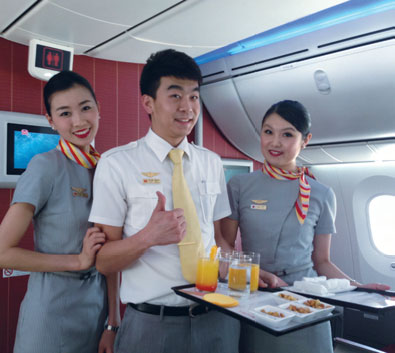 Tian Bowen (center), cabin manager for flight 481, Hainan Airlines' direct service between Beijing and Boston, gets ready to serve refreshments with his two colleagues before the flight takes off in Beijing on June 20. Zhang Yuwei / China Daily