Alleged cult members arrested on murder charges
Five people who police say are members of a religious cult were arrested on Monday on suspicion of fatally beating a young woman in a McDonald's restaurant in Shandong province.
The bloody attack, which triggered nationwide outrage after a video of the beating went viral online, occurred on Wednesday night in Zhaoyuan after the woman refused to give her cellphone number to the group, Shandong police said.
The woman, identified only by her surname Wu, was 35 years old and had a 6-year-old child, the police said.
Shandong police identified the suspects as Zhang Lidong, 54; his daughters Zhang Fan, 29, and Zhang Hang, 18; and two other women, Lyu Yingchun, 39, and Zhang Qiaolian, 23.
Zhang Lidong's son, who was also accused of involvement in the attack, is a minor and is being handled separately. According to a CCTV report, he is 12 years old.
Zhaoyuan police said they discovered that the six involved in the fatal beating are members of a cult called the Almighty God after finding books and other cult materials at Zhang Lidong's home. They said Zhang's family joined the cult seven years ago.
The Almighty God originated in Henan province in the early 1990s and was outlawed shortly afterward by the Chinese government.
On Wednesday night, the group was asking customers at the restaurant for their cellphone numbers to solicit new members, Zhaoyuan police said.
A video released by the police showed the attackers continuously striking Wu with a metal rod as she lay on the ground screaming. One attacker is heard shouting at Wu, "Demon? Go to hell!" while customers in the restaurant are threatened with violence if they attempt to rescue the woman.
Zhaoyuan police officer Yan Zhijun told CCTV that when he and other police officers arrived at the scene, Wu was lying on the ground, her head in a pool of blood, as the attackers continued to beat her.
"A bald man in his 50s was kicking the victim's upper body, while a child was hitting her head with the aluminum rod of a mop," Yan said.
Police said the officers rushed in to stop the attack and Wu was sent to the hospital, where she later died.
Zhang Lidong told CCTV at a detention house after the attack that he and the five others did not know Wu.
"Because she is a demon, an evil spirit, she must die," Zhang said. When asked by a reporter whether he fears the punishment he will likely face, Zhang said, "No, we don't. We believe in God."
After the video of the attack went viral, thousands of comments were posted on Sina Weibo condemning the atrocity and offering condolences to the victim's family.
wangxiaodong@chinadaily.com.cn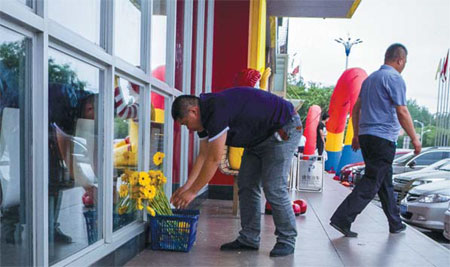 A resident pays respects on Sunday to the woman who was killed, allegedly by members of a religious cult, at a McDonald's restaurant in Zhaoyuan, Shandong province, last week. Luan Shengjie / for China Daily