Thai tourism booth hopes to woo Chinese, young and old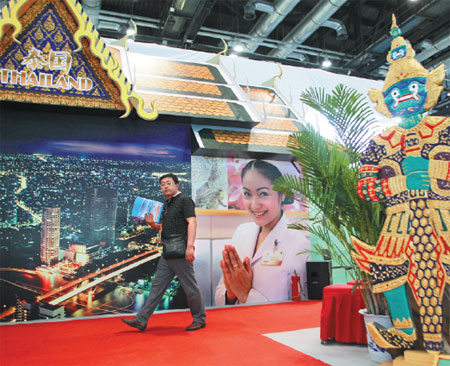 Thailand's booth at the Third China (Beijing) International Fair for Trade in Services.The country is promoting its medical tourism sector. Zou Hong / China Daily
Thailand is wooing patients in China to visit its many hospitals, at the China Beijing International Fair for Trade in Services, that began on Wednesday.
Although most Chinese people probably view it as a tourist spot, the southeast Asian country has been popular with some Western citizens who go there to recover from illnesses, says a Thai government official.
"Thailand has long won its name as a rehabilitation resort among Europeans, Americans and people from the Middle East, though it is largely known as a tourist destination among Chinese people," says Apipong Khunakornbodintr, a minister counselor at the Thailand embassy in Beijing.
It isn't just for plastic surgeries and other cosmetic care that foreigners go to Thailand, they do so for serious operations too, he says, adding that most Thai hospitals have staff members who speak fluent English, and offer accommodation to patients and their families at competitive prices.
Some hospitals are hiring Chinese-speaking staff as they anticipate a rise in Chinese patients.
There are about 26 hospitals in Thailand that are equipped to serve foreign nationals, most of them located in Bangkok and other holiday resorts, according to statistics from the Thai embassy in Beijing.
China could contribute to Thailand's medical tourism sector as the spending power of Chinese people grows. In addition, Bangkok is working on policies to attract elderly Chinese retirees to its medical facilities and a slow-paced life amid stunning natural settings, the official says.
At the fair in Beijing, in which Thailand is participating for the first time, it will also seek to attract Chinese students.
"Thai universities are working well with their counterparts in southern China, especially those like Xiamen or Nanning to offer overseas educational programs," says Ortipa Vittayaareekul, executive director of the Thai Chamber of Commerce in China, based in Beijing?.
Thailand is an ideal country for Chinese students because it has an education system that is similar to the United States and Europe but at a much lower cost, she says. "A student's one-year expenditure in the US will be enough for him or her to spend four years in Thailand."
An MBA program costs at most 200,000 yuan ($32.053) at the Assumption University of Thailand, a top Thai university.
"Despite the political situation, the area affected is quite small, mainly in Bangkok," Khunakornbodintr says, while referring to the recent coup by that country's military to remove former prime minister Yingluck Shinawatra from power.
lifusheng@chinadaily.com.cn