Youngster stuns Li Na in first round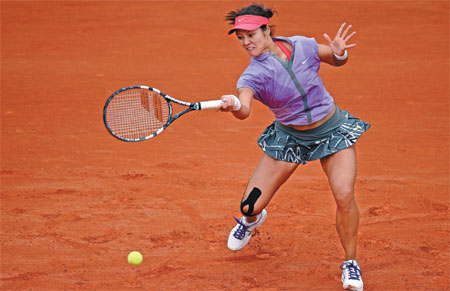 China's Li Na hits a return to France's Kristina Mladenovic during the first-round match of the French Open at the Roland Garros stadium, in Paris on Tuesday. Second seed Li lost 7-5,3-6,6-1. David Vincent / Associated Press
Another day on the clay at the French Open, another reigning Australian Open champion bites the red dust.
China's second seed Li Na lost her first Grand Slam match since winning the title in Melbourne, falling to Kristina Mladenovic of France 7-5, 3-6, 6-1 on Tuesday. The loss came a day after men's Australian Open champion Stan Wawrinka was eliminated in the first round.
Li, who won the French Open title in 2011, ended up with 37 unforced errors on a cool and overcast day at Roland Garros. Mladenovic had only 25 errors.
"Nobody say if you No 2 in the world you have to win all the matches. I mean, this is tennis," Li said. "I think it doesn't matter who plays against me today, I'd always lose the match today, because I don't think she ... put a lot of pressure (on) me. I think today just I gave it away."
This is the first time that both Australian Open champions have lost in the first round at Roland Garros. The last Australian Open women's champion to lose in the first round in Paris was Lindsay Davenport in 2000.
Mladenovic, who was Australian Open mixed doubles champion this year with Canadian Daniel Nestor, goes on to face Alison Riske of the United States for a place in the third round.
"It's just incredible," said Mladenovic, who was 36 in the world last Ausgust.
"I don't have the words to describe what just happened. To beat the world number two in the first round at Roland Garros, it's incredible. Without the crowd, I could not have done it."
The 21-year-old dug deep to steal the first set from under Li's nose when she saved two set points at 5-4 before levelling the match.
It was a mighty effort from the 1.84m (6ft) right hander and she seized on a lapse by Li to close out the set 7-5 in just over an hour.
Li, who came into the tournament in good form, having reached the quarterfinals at Rome and Madrid as well as the Miami Masters final where she lost to Serena Williams, immediately hit back to start the second set.
The 32-year-old from Wuhan picked up an early break to race into a 3-0 lead which she protected the rest of the way to level the match 6-3.
In 2011, Li became the first Chinese player to win a Grand Slam title. But on Tuesday, she said she wasn't feeling quite like her usual self.
"I don't think I'm doing well. If I doing well, I believe I still can win the match even if it's not my best day," Li said. "But I don't think today I try a lot."