Reports of property easing lift listed firms
Central govt said to adopt unwritten rule leaving curbs to local discretion
Market reaction to reports that China will ease property curbs in most cities has underscored the depth of anxiety over the danger of a plunge in the housing market, one of the economy's biggest growth engines.
The Guangzhou-based weekly newspaper Southern Weekend reported on Thursday that except for the four largest cities (Beijing, Shanghai, Guangzhou and Shenzhen), cities will be allowed to "adjust" housing control policies as they see fit.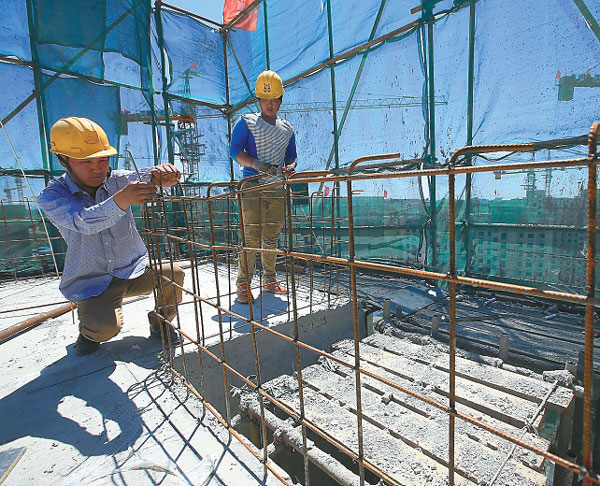 Construction workers at a housing development in Shunyi district in Beijing. Fu Ding / For China Daily
The shares of China Vanke Co and Poly Real Estate Group Co advanced more than 3 percent on Friday, while the Shanghai property sub-index climbed 2.1 percent for the biggest gain in a month. The Shanghai Composite Index was up 0.7 percent.
Greentown China Holdings Ltd and China Overseas Land and Investment Ltd jumped more than 5 percent each in Hong Kong.
Citing a source close to the Ministry of Housing and Urban-Rural Development, the China Securities Journal said that the easing of purchase restrictions has become unwritten policy.
"The curb (on purchases) was a temporary measure that inevitably had to end. The specific timing depended on market conditions," the source was quoted as saying.
The ministry didn't respond to China Daily's request for comment.
The ministry and other regulators involved in the sector haven't publicly commented on moves by a few cities to ease local curbs. Some second - and third-tier cities such as Nanning in the Guangxi Zhuang autonomous region, Wuxi in Jiangsu and Wuhu in Anhui have eased curbs.
They used a variety of methods, such as granting household registration (hukou) to buyers or offering subsidies. These moves occurred after the Lunar New Year, when sales began to slump and prices weakened.
If Southern Weekend's report proves true, regulators are making more substantial concessions. Conventional wisdom has been that the government would ease up on third - and fourth-tier cities but keep tight controls on second-tier ones such as Hangzhou and Nanjing.
More than 40 cities have imposed various curbs on home purchases since 2010, when prices surged. These policies have gone some way toward curbing the speculation that drove up prices.
Besides developers, many of which have cut prices, local governments were the most willing to loosen, since taxes on housing transactions and sales of land to build apartments contribute the bulk of their revenue.
The central government, however, wouldn't budge, even as signs of market weakness emerged and spread.
Beijing's previously unyielding stance has made its apparent lenience this time worth noting.
One sign of concern from the central government came earlier this month, when the central bank urged the nation's biggest lenders to accelerate granting of home mortgages.
Liu Weimin, a researcher with the Development Research Center of the State Council (China's cabinet), said the central bank's move was meant to prompt a change in banks' handling of home mortgages, but it didn't necessarily equate to a "stimulus".
"The central bank can offer 'guidance' but that does not necessarily mean banks will fully comply. I think the government's aim is to prevent a deep dive, not to jump start the property sector," Liu said.
The new leadership has shown a new attitude toward the property market by stressing a "differentiation" strategy. It has vowed to increase supply in the largest cities, where demand is still strong, while controlling supply in smaller cities where inventories have risen to worrying levels.
In a Thursday interview in Kigali, Rwanda, People's Bank of China Governor Zhou Xiaochuan said China has a housing bubble only in "some cities," an issue that's difficult to resolve with a single nationwide policy.
China is a big country with multiple housing markets, many of which are still drawing new inhabitants from the countryside, Zhou said.
"China is still in the process of urbanization, so there may be volatility in the supply-demand relationship," Zhou said. "But if you look at the medium-term trend of urbanization, I think we still have a very good market for housing."
zhengyangpeng@chinadaily.com.cn