Chinese ambassador bids farewell after three years
Around 100 members of the Canada China Business Council (CCBC) and Gowlings LLP bid farewell to Junsai Zhang, China's ambassador to Canada, on April 25 in Toronto.
Having served for more than three years, Zhang concluded his tenure at the end of April.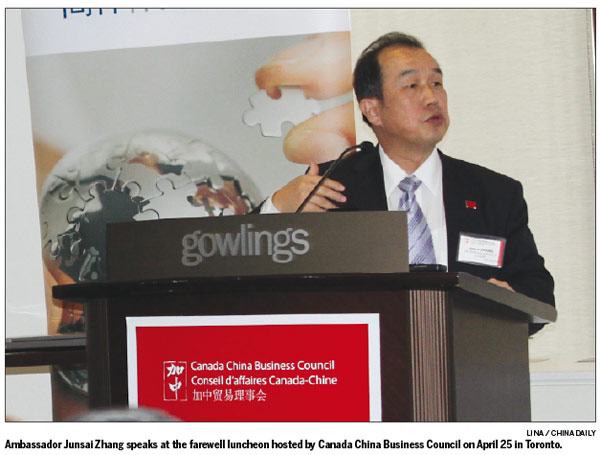 Ambassador Zhang was recognized for his contributions to the growth in business, investment and trade between the two countries, which included helping China become Canada's second-largest trading partner and export market — with bilateral trade now exceeding $54 billion — and two-way investment growing by 200 percent from 2010 to 2013.
The China-Canada Economic Complementarities Study shows that the two countries have different strengths in the global industrial chain, and the two economies are highly complementary, Zhang said in his remarks.
"So we can set new goals for trade cooperation," he said.
Three years ago, the most noticeable cooperation between China and Canada was related to energy and resources, such as oil, gas, minerals, and lumber, he said.
Now the countries are talking about setting up a joint hi-tech incubator, conducting joint research and development on large-airplane technology, carrying out civil nuclear cooperation and the competition between Toronto and Vancouver to become an RMB trading center, he added.
"China not only needs Canada's energy and resource products, but also its specialties such as cherries, beef, seafood and wine," Zhang told the group.
It is expected that China will import $10 trillion worth of goods in the next five years.
"China also welcomes investment from Canada," Zhang continued. "As China improves its market system, Canadian enterprises will enjoy a better business environment."
At the end of last year, there were about 13,000 Canadian businesses registered in China.
According to Zhang, China's latest round of opening up gives priority to service sectors such as finance, culture, education, health, architecture design, child- and old-age care, commercial logistics and more.
Zhang emphasized that pursing mutual benefits was essential to developing a bilateral relationship. He encouraged student exchanges, which bring cooperation and understanding in the next generation.
Regarding a rift in the Canadian cabinet that stalled the trade relationship with China recently, Zhang said that in his experience, most of the provincial governments in Canada are looking forward to building closer ties with China, and China will continue to expand mutually beneficial cooperation with Canada at all levels.
"A true relationship means that we trust each other and understand each other. We will put all the sensitive issues in their proper place with our bilateral relations. I am quite confident that our relationship will go on stably and smoothly," he said.
So far, however, there's no indication that the Canada-China Foreign Investment Promotion and Protection Agreement (FIPA) signed in 2012, has not yet been ratified by the cabinet and has yet to become law. "I hope the Canadian government ratifies FIPA as soon as possible," Zhang said.
He mentioned that Canadian Prime Minister Stephen Harper will pay his third official visit to China later this year. "And the people-to-people connections that already exist between Canada and China will further enhance bilateral trade in services," Zhang concluded.
"Ambassador Zhang has contributed greatly to the increased business, trade and investment between our two countries," said Sarah Kutulakos, executive director of CCBC.
Scott Jolliffe, chairman and CEO of Growlings, praised the ambassador for his service. "He has strengthened our business and cultural ties and assisted in forging a prosperous future together for both countries," Jolliffe said.
"We greatly benefitted from his efforts to foster trade between Canada and China," said Pierre Sein Pyun, Bombardier's vice-president for government affairs. He thanked Ambassador Zhang for helping with the company's great success in China.
Governor General David Johnston also thanked Zhang for promoting Canada-China relations during his tenure, especially in strengthening education and youth exchanges and cooperation between the two sides.