Property firm's 20-year plan for S Africa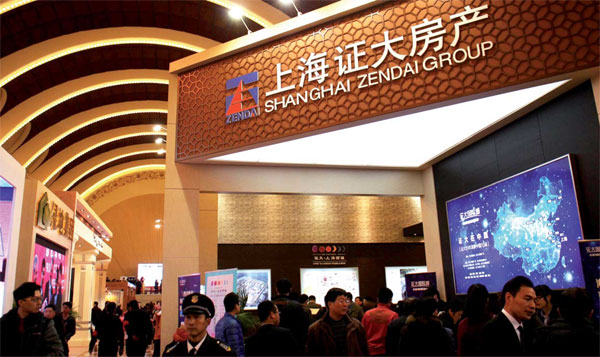 Zendai's project will be one of the largest real estate development projects in South Africa. Provided to China Daily
Zendai looks to diversify and internationalize its investment portfolio
Shanghai-based Zendai Group, the parent company of Hong Kong-listed Zendai Property Ltd, will invest more than 80 billion rand ($7.6 billion) over the next 20 years to develop a mixed-use property project in Johannesburg.
Chairman Dai Zhikang said Zendai aims to build a modern urban complex similar to the Pudong district of Shanghai or Manhattan in New York.
He made the comments during an investment event in Johannesburg on April 9, Xinhua News Agency reported.
"Zendai will build one university, one African museum, one primary school, one middle school and 3,000 housing units within three years. This complex will provide ideal residential and working space for 300,000 people within 20 years," Dai said.
Chinese firms are contractors for 12 percent of the infrastructure projects in Africa, a report from Deloitte Touche Tohmatsu Ltd said in December, and 17 percent of the infrastructure projects in East Africa have investment from China. Most of the projects involve power facilities and transport systems, and their total value is more than $222.7 billion, Deloitte said.
Analysts said Chinese companies have been focusing on infrastructure projects in sub-Saharan Africa. Zendai's project will be one of the largest real estate development projects in the continent's most developed country.
"Chinese companies used to focus on trade. They exported products from China to Africa and imported oil, iron ore, coal and wood. But now more companies are expanding their business by opening factories in Africa or investing in local infrastructure construction," said Cai Lihua, vice-chairman of the Africa Investment Club based in Beijing.
But risk accompanies expansion, and companies should pay attention to political, legal, currency and labor risks, he said.
Zendai Property bought about 1,600 hectares of land and some existing buildings for the project last November for 1.06 billion rand. The seller was AECI Ltd of South Africa, a chemical producer.
"Apart from our first overseas project, which is in New Zealand, we believe that the property development project in Johannesburg will substantially increase the group's land reserve and aid our expansion into the South African market.
"This will help us to diversify and internationalize our investment portfolio, leading to more stable income for the group," Dai said earlier.
xieyu@chinadaily.com.cn